ON THIS PAGE: The 2023 World Mayor longlist | North America | Latin America| Europe | Asia | Africa | About & contact

Commendations for mayors of:
Braga | Bristol | Dover | Graz | Greifswald | Kyiv | Malmö | Oliveri | Quelimane | Tremblay-en-France | Utrecht |

World Mayor essays
Essays by: Mayor of Dover | Mayor of Graz | Bürgermeisterin von Graz | Mayor of Greifswald |Oberbürgermeister von Greifswald | Mayor of Oliveri | Sindaco di Oliveri | Mayor of Quelimane | Mayor of Utrecht | Burgemeester van Utrecht |

ON OTHER PAGES: Front page | The 2023 Finalists | About World Mayor 2023 | The 2023 Shortlist | The 2023 Longlist | World Mayor History | World Mayor Sculpture | Code of Ethics | Universal qualities of mayors | Press & Media |


WORLD MAYOR LONGLIST 2023
Final edition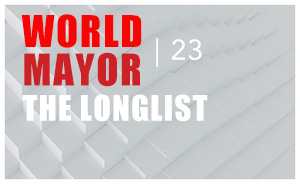 Some 92 mayors
from 40 countries

The final edition of the World Mayor longlist includes 92 mayors from 40 countries who have been nominated for the 2023 World Mayor Prize and Friendship Awards by members of their own communities as well as by supporters from elsewhere. The City Mayors Foundation, the organisers of the World Mayor Project, is now inviting the public to support those shortlisted mayors who they believe deserve to win the 2023 World Mayor Prize and Awards. The shortlist was published on 19 July 2023.

The final edition of the 2023 World Mayor longlist includes mayors who, together with their communities, understand that towns and cities working together can be forces for progress, prosperity and peace.

The shortlist for the 2023 World Mayor Prize was published on 19 July 2023.

The nine finalists for the 2023 World Mayor Prize were announced on Thursday, 2 November 2023.


NORTH AMERICA
Canada
USA


LATIN AMERICA
Mexico, Costa Rica, Colombia, Chile, Brazil, Argentina


EUROPE
France

Italy

Germany

United Kingdom

Portugal, Spain

Belgium, Netherlands, Austria, Switzerland

Finland, Poland, Latvia, Sweden

Greece, Bulgaria, North Cyprus

Andreas Pachatouridis
Mayor since 2002
Peristeri, Attiki
Greece
Vote & Comment

Kostas Bakoyannis
Mayor since 2019
Athens
Greece
Vote & Comment

Konstantinos Zervas
Mayor since 2019
Thessaloniki
Greece
Vote & Comment

Yordanka Fandakova
Mayor since 2011
Sofia
Bulgaria
Vote & Comment

Mehmet Harmanci
Mayor since 2014
Nicosia, North
North Cyprus
Vote & Comment


Bosnia & Herzogovina, Moldova, Ukraine, Slovenia


ASIA, AUSTRALASIA
Japan, New Zealand

Turkey, Israel

Indonesia, Sri Lanka, Philippines, India

AFRICA
Tunisia, Morocco, Mozambique


We invite individuals and organisations to take part in World Mayor 2023.


© Copyright: All content of the City Mayors and World Mayor websites are protected by worldwide copyright. Please contact us if you wish to use any material from the City Mayors, World Mayor or Women Mayors websites.