FRONT PAGE
About World Mayor
City Mayors Foundation
Email
worldmayor@gmail.com
Tel: +44 20 8439 7978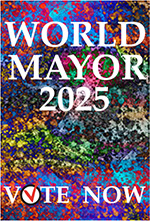 WORLD MAYOR 2018
• VOTE NOW
• Shortlist 2018

• Longlist 2018
• Raison d'être
• World Mayor history
• World Mayor Prize
• Code of Ethics
• Criteria
• Meet the Press
---
WORLD MAYOR 2016
• Results 2016
• Project 2016

• Shortlist 2016
• Longlist 2016
• Code of Ethics
• World Mayor Prize
• World Mayor Histor
y
• Raison d'être
INTERVIEWS WITH
• Mayor of Athens
• Mayor of Lahr
• Mayor of Mechelen
TESTIMONIALS
• Mayor of Aleppo
• Mayor of Amstelveen
• Mayor of Athens
• Mayor of Cologne
• Mayor of Gdansk
• Mayor of Grande-Synthe
• Mayor of Hettstedt
• Mayor of Lahr
• Mayor of Lampedusa
• Mayor of Lesbos
• Mayor of Mechelen
• Mayor of Philadelphia
• Mayor of Schwäbisch Gmünd
ESSAYS BY
• Mayor of Aleppo
• Mayor of Amstelveen
• Mayor of Athens
• Mayor of Gdansk
• Mayor of Lahr
• Mayor of Mechelen
• Mayor of Schwäbisch Gmünd
PROFILES OF
• Mayor of Amstelveen
• Mayor of Athens
• Mayor of Cologne
• Mayor of Gdansk
• Mayor of Grande-Synthe
• Mayor of Lahr
• Mayor of Lampedusa
• Mayor of Lesbos
• Mayor of Mechelen
• Mayor of Schwäbisch Gmünd
---
WORLD MAYOR 2014
WORLD MAYOR 2012
WORLD MAYOR 2010
WORLD MAYOR 2008
WORLD MAYOR 2006
WORLD MAYOR 2005
WORLD MAYOR 2004
WORLD MAYOR 2016
The City Mayors Foundation has invited the mayors shortlisted for the 2016 World Mayor Prize to contribute their thoughts on the challenges faced by and opportunities offered to their communities following the arrival of hundreds, if not thousands, of refugees and migrants from war zones and desaster-torn regions of the world. Below Bart Somers, Mayor of Mechelen, Belgium, writes with optimism and challenges sterile thinking.

Essay by Bart Somers
Mayor of Mechelen, Belgium
Influencers, journalists, politicians, civilians, often ask me what the Mechelen recipe for an inclusive society exactly is. What is it that distinguishes the Mechelen approach? The answer is: connection. Through early multidisciplinary detection we try to avoid that people, young people mostly, become isolated. Our goal is to involve everyone in our city, our community of civilians. That is our commitment. Hence our effort to welcome refugees into a local shelter initiative and offer them perspective.

I believe that true social cohesion is only possible if we prevent segregation. That is a task for the government. The government should set an example and make it clear that we all need to integrate in diversity. It is not only up to the newcomer to adapt. Everyone has to adapt to the New Normal, to a diverse society. That is what we try to do in Mechelen. Small based for now, but I hope our approach is inspiring to other governmental levels. There is work to be done in all societal levels too. Youth clubs for instance should be more approachable to immigrant families. It's not enough just to allow them. The clubs themselves need to reach out, by helping newcomers to overcome their hesitations, by taking into account their sensitivities, by taking the first step.

If we really want to invest in our future, the future of all our children, that is what has to be done. The same goes for sports, culture - you name it. We all need to contribute to build a new We-Feeling.

When we play together, go to school together, work together, relax together, differences will disappear. The importance of the group will shrink while the individual becomes more important. The focus on individual responsibility is particularly important to raise a dam against the threat of extremism and consequential violent radicalism. We will not fight violent radicalism by traditional integration policy, important as this may be. Many people with radical ideas have long been established according to these classical standards.

If you ask me for a policy recommendation, I would say that we need a Minister of Society, who is literary responsible for living together, a minister that forges us together into a community based on similar citizenship. A citizenship that does not require that one should take over the preferences of another, but will impose that everyone respects our basic values. Shared citizenship or inclusive society does not exist if we keep living next to each other instead of together. Such a Minister of Society needs to connect and to prevent that young people grow up in isolation and alienation of our society as it unfortunately occurs in several European big cities nowadays. Such minister combats prejudice and requires effort from everyone, by pulling us all out or our comfort zones. Such policy takes courage. It requires perseverance because prejudices are persistent.

And above all it takes optimism.

The Mechelen reality is far from unique. The rest of Flanders is also multi-colored and there is nothing to suggest that this process will stop, neither in the rest of Europe nor the world. The twenty-first century will be the era of globalization, and we better get used to it.

The million dollar question is: how do we cope with it? Do we recognize this new reality or do we cling to the past? Is 'super diverse' the New Normal and do we accept it as our world today or will we continue to hope against all odds that somewhere somehow we could turn back time?

Are we willing to seize the opportunities this new reality offers us or will we cling on to negativity and problematize the consequences of a diverse society? And what if we do? What if say we accept this new reality? Do we really mean it or do we say so just because we are supposed to? In other terms: do we choose for an open or a closed society? We must choose now.