Nomination Form
|||
History
|||
Raison d'être
|||
The Prize
|||
Ethics
|||
Criteria
WORLD MAYOR PRIZE 2018

2018 World Mayor Prize and Honours
to promote women in local government
The
201
8 World Mayor Project is dedicated to women in local government. It features the achievements of women mayors from across the world and will honour the best of them. The all-women long- and shortlists will include mayors from towns and cities of all sizes who serve with integrity, determination and imagination. The 2018 World Mayor Prize and Commendations will be conferred on women mayors who have made outstanding and long-lasting contributions to their communities.
Women have fought prejudice and struggled for equal rights and opportunities for hundreds of years. They did it with courage and resolve. In the 20th and early 21st centuries, women have achieved success in many spheres previously reserved to or monopolised by men, but their contributions are still often undervalued and their potential not recognised enough. Less than 20 per cent of the world's mayors are women.
2018 Longlist closed on 10 August
Shortlist to be released 4 September
The 2018 World Mayor
longlist
closed on 10 August. The shortlist for the 2018 World Mayor Prize will be announced on 4 September.
Support
for already longlisted mayors can be posted until 17 August. After the publication of the shortlist, people will be able to vote for and comment on those shortlisted mayors they believe deserve to be considered for the World Mayor Prize. The shortlist will include women mayors from all world regions.
||| LONGLIST ||| SUPPORT & NOMINATION FORM |||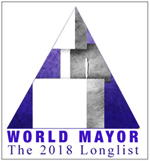 The 2018 Longlist
Some 62 mayors
from 36 countries
The longlist for the 2018 World Mayor Prize includes 62 women mayors from 36 countries in all world regions: North America (16); South America (3); Europe (28); Asia (9); Australasia (2); Africa (4). Some women mayors govern large metropolises, such as Paris, Madrid or Sydney while others represent smaller towns and cities. The longlist closed on 10 August. Support for already longlisted mayors can be posted until 17 August.
FULL LIST ||| SUPPORT & NOMINATION FORM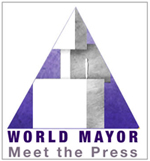 Press and Media coverage
Since the launch of World Mayor 2018 in late January, news and media organisations from across the world have been reporting and commenting on this year's Project. The decision by the City Mayors Foundation, its organisers, to dedicate World Mayor 2018 to women mayors has been widely welcomed. While some faces on the initial
longlist
are already well-known and respected, the list also features remarkable women who, because they are mayors of smaller cities, have so far had little international exposure. World Mayor 2018 and the media coverage it generates will introduce outstanding women mayors from across the world to an international audience.
PRESS COVERAGE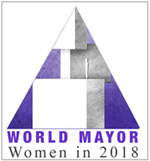 World Mayor 2018 is looking for
women mayors with qualities such as:

• Competence in managing the day-to-day affairs of their cities
• Acumen of financial, business and economic affairs
• Honesty and integrity in decision-making
• Repugnance for using the office of mayor for self-enrichment
• Fairness in dealing with the varied needs and concerns of citizens
• Ability and ambition to be a mayor for all citizens, irrespective of their cultural, racial or social backgrounds and political beliefs
• Passion for fostering tolerance and amity among different communities
• Belief in working together with other cities, nationally and internationally
• Vision for a city that provides future generations of citizens with prosperity, safety and happiness
• Conviction that protecting and enhancing the environment is not optional but an absolute must
• Caring for disadvantaged groups of citizens
• Agreement to the City Mayors' Code of Ethics
Please nominate exceptional women mayors
Code of Ethics
for city leaders
The City Mayors Foundation
and the
World Mayor Project
were established in 2003 to promote, encourage and facilitate good local government. To strengthen local government further, a Code of Ethics for city leaders, who wish to perform their duties beyond all reproach, has been devised.
MORE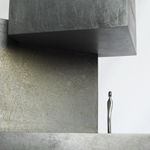 World Mayor Prize sculpture
shows courage and conviction
City Mayors commissioned French artist Manuel Ferrari to design a sculpture that was as unique as the city of the winning mayor. City Mayors' senior fellow, Tann vom Hove, said: "We asked Manuel Ferrari to produce a design that shows what an inspirational mayor can achieve if he builds on strong foundations."
"I wanted to create a design that also showed courage and conviction," Manuel Ferrari explained. "I decided on cubes as building blocks which, at first glance, are stacked precariously on top of each other. Closer inspection, however, reveals firm interlocking and construction around an invisible but strong spine." He said that his design reflected his own experience of living and working in an urban environment. "Many of the world's most successful cities are prospering because their different communities, often with their own cultures, are united around civic goals," Manuel Ferrari concluded.
MORE
---
WORLD MAYOR 2016
Bart Somers, Mayor of Mechelen, Belgium
awarded the 2016 World Mayor Prize
World Mayor Commendations for the Mayors of
Lahr (Germany) and Athens (Greece)
Bart Somers, the Mayor of Mechelen, Belgium, has been awarded the 2016 World Mayor Prize. World Mayor Commendations are being conferred to Wolfgang G Müller, Mayor of Lahr, Germany and Georgios Kaminis, Mayor of Athens, Greece.
The 2016 World Mayor Project honours mayors and their communities that have welcomed refugees and offered them safety, shelter and support. Many of the mayors included in the top-ten honours list have developed and invested in longterm strategies as well as day-to-day measures to successfully integrate newcomers from different countries and cultures. They have also addressed local residents' fears of and reservations about the arrival of people who speak foreign languages, observe their own customs and practise different religions.
MORE
The 2016 World Mayor Honours List
| | | | |
| --- | --- | --- | --- |
| 1 | Bart Somers | Mayor of Mechelen | Belgium |
| 2 | Wolfgang G Müller | Mayor of Lahr | Germany |
| 3 | Georgios Kaminis | Mayor of Athens | Greece |
| 4 | Giusi Nicolini | Mayor of Lampedusa | Italy |
| 5 | Richard Arnold | Mayor of Schwäbisch Gmünd | Germany |
| 6 | Mirjam van 't Veld | Mayor of Amstelveen | Netherlands |
| 7 | Spiros Galinos | Mayor of Lesbos | Greece |
| 8 | Pavel Adamowicz | Mayor of Gdansk | Poland |
| 9 | Damien Carême | Mayor of Grande-Synthe | France |
| 10 | Henriette Reker | Mayor of Cologne | Germany |
MORE
Mayors of Mechelen, Lahr and Athens
presented with World Mayor honours
Following the announcement of the
2016 World Mayor Honours
list on 14 February, the Mayors of Mechelen (
Bart Somers
), Lahr (
Wolfgang G Müller
) and Athens (
Georgios Kaminis
) were presented with the
World Mayor Prize
and Commendations.