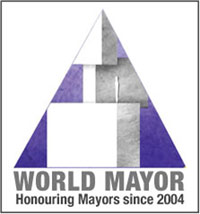 UTILITIES

FRONT PAGE
About World Mayor
City Mayors Foundation
Email







---
WORLD MAYOR 2021

- Questioning nominees
- Shortlist 2021
- Longlist 2021
- Selection criteria
- Covid-19
- World Mayor history
- World Mayor Prize
- Poverty
- Code of Ethics
- Press & Media
TESTIMONIALS
- Mayor of Amsterdam
- Mayor of Ankara
- Mayor of Arnhem
- Mayor of Bergamo
- Mayor of Bogotá
- Mayor of Braga
- Mayor of Bratislava
- Mayor of Buenos Aires
- Mayor of Carmignano
- Mayor of Cascais
- Mayor of Compton
- Mayor of Dantumadiel
- Mayor of Freetown
- Mayor of Grenoble
- Mayor of Grigny
- Mayor of Guarulhos
- Mayor of Kuala Lumpur
- Mayor of Mannheim
- Mayor of Mexico City
- Mayor of Milan
- Mayor of Raqqa
- Mayor of Rostock
- Mayor of Rotterdam
- Mayor of Saint-Omer
- Mayor of San Bellino
- Mayor of Villa del Conte
- Mayor of Warsaw
---
WORLD MAYOR 2018
WORLD MAYOR 2016
WORLD MAYOR 2014
WORLD MAYOR 2012
WORLD MAYOR 2010
WORLD MAYOR 2008
WORLD MAYOR 2006
WORLD MAYOR 2005
WORLD MAYOR 2004
| | | | | |
| --- | --- | --- | --- | --- |
| Cities have to be given and acquire the resources, knowledge and expertise to protect their citizens against any threats. Civic authorities must be able to maintain and strenghten the physical, economic and social infrastructures of their communities as there will be other crises. | | To make cities more resilient, their societies have to become more equal. The Covid-19 crisis has shown that disadvantaged groups of society suffered disproportionally. Socially and economically divided communities are less able to act as one and are more vulnerable. | | A healthy, humane environment is essential for people's well being. Lofty long-term goals are not enough. Cities should every year conduct 'green audits' to measure environmental improvements. Mayors should be willing to give citizens a say in developments of their cities. |



World Mayor 2021
Stronger | Fairer | Greener

Questions for 2021 nominees ||| SHORTLIST ||| Criteria ||| History ||| The Prize


The World Mayor Project since 2004
The City Mayors Foundation has awarded The World Mayor Prize and Commendations since 2004. Every two years, the World Mayor Project features some of the world's most outstanding mayors, mayors who have served their fellow citizens with integrity, courage and diligence. Since 2016, the World Mayor Project has addressed some of the big issues of our time: The refugee crisis (2016); The underrepresentation of women in local government (2018); Cities during COVID-19 (2020/21). The 2021 World Mayor Prize and Commendations will be presented to mayors who have shown outstanding leadership during the COVID-19 pandemic and who now believe cities need to become more resilient economically, structurally, socially and environmentally. Mayors to be considered for the World Mayor Prize are not selected by a jury but nominated and supported by people from cities around the world. The 2021 World Mayor shortlist was announced on 3 February 2021.






World Mayor 2021 nominees
32 mayors from 21 countries
The shortlist for the 2021 World Mayor Prize, which was announced on 3 February 2021, includes 32 mayors from 21 countries whose leadership during the Covid pandemic has provided their communities with protection and assurance. To be shortlisted, mayors also had to show an awareness of the long-term implications of the pandemic. Returning to the 'old normal' should not be the aim. In order to protect communities from future natural or man-made disasters, cities must become Stronger | Fairer | Greener.

The 2021 World Mayor shortlist includes mayors from some of the world's largest metropolises but also many from medium-sized and smaller towns and cities.
THE 2021 WORLD MAYOR SHORTLIST


Put your questions to
World Mayor nominees
During the third stage of World Mayor 2021 – from 5 May to 7 June - World Mayor nominees will answer questions put to them by residents of their towns and cities as well as from national and international supporters. The questions can deal with local issues and/or address subjects of interest to a worldwide audience. In addition to the implications of the Covid pandemic, the questions should reflect the main themes of the 2021 World Mayor Project: Stronger | Fairer | Greener cities.
ASK YOURS QUESTIONS




World Mayor 2021: Mayors wanted
for Stronger | Fairer | Greener cities
The World Mayor Project 2021 proposes to honour mayors whose leadership during the COVID-19 pandemic has provided their communities with protection and assurance. We are looking for mayors who showed outstanding management and social skills but also, and more importantly, acted at all times with compassion towards those most affected by Covid-19.

But looking back is not enough. All cities, of whatever size, wherever they are, and irrespective of the severity with which they were hit by COVID-19, must become more resilient - structurally, economically, socially and environmentally. World Mayor 2021 wishes to honour mayors who understand the challenges ahead and are preparing to meet them.

Cities must become stronger and better prepared to deal with unexpected challenges. We expect candidates for the World Mayor Prize to demonstrate effective strategies to make their cities more resourceful and resilient in the future. VOTE NOW

Cities must also become fairer. Socially and economically divided communities are less able to unite behind a common cause and are thus more fragile and vulnerable. World Mayor is looking for mayors who work towards greater equality and fairness and instil a sense of solidarity across their communities. Mayors should also be willing to share some of their powers with the people they are elected to serve. VOTE NOW

Cities must become greener. A healthy environment is essential for people's well being. Lofty long-term goals are not enough. New developments have to serve the interest of all, not just a few. World Mayor will acclaim mayors who every year conduct a 'green audit' to measure environmental improvements. VOTE NOW


PUT YOUR QUESTIONS TO WORLD MAYOR NOMINEES


Code of Ethics
for city leaders
The City Mayors Foundation and the World Mayor Project were established in 2003 to promote, encourage and facilitate good local government. To strengthen local government further, a Code of Ethics for city leaders, who wish to perform their duties beyond all reproach, has been devised. MORE


World Mayor Prize sculpture
shows courage and conviction
City Mayors commissioned French artist Manuel Ferrari to design a sculpture that was as unique as the city of the winning mayor. City Mayors' senior fellow, Tann vom Hove, said: "We asked Manuel Ferrari to produce a design that shows what an inspirational mayor can achieve if he builds on strong foundations." MORE

PUT YOUR QUESTIONS TO WORLD MAYOR NOMINEES



---
ABOUT WORLD MAYOR
| | | | |
| --- | --- | --- | --- |
| The World Mayor Project was conceived in 2004 to raise the profile of mayors worldwide and honour those who have served their communities well. The Honours are awarded to mayors who have worked for the benefit of all citizens, irrespective of race, gender, religion, politics or legal status. | | Winners of the World Mayor Prize since 2004: Edi Rama, Tirana; Dora Bakoyannis, Athens; John So, Melbourne; Helen Zille, Cape Town; Marcelo Ebrard, Mexico City; Iñaki Azkuna, Bilbao; Naheed Nenshi, Calgary; Bart Somers, Mechelen; Valeria Mancinelli, Ancona. | |
| | | | |