UTILITIES

FRONT PAGE
About World Mayor
City Mayors Foundation
Email






---

WORLD MAYOR 2020
• NOMINATION FORM
• Longlist 2020
• Definitions of poverty
• Nomination criteria
• World Mayor history
• World Mayor Prize
• Code of Ethics
• Meet the Press


---
WORLD MAYOR 2018
WORLD MAYOR 2016
WORLD MAYOR 2014
WORLD MAYOR 2012
WORLD MAYOR 2010
WORLD MAYOR 2008
WORLD MAYOR 2006
WORLD MAYOR 2005
WORLD MAYOR 2004


World Mayor 2020
Mayors fighting poverty

Nominations ||| Poverty ||| History ||| Longlist ||| The Prize

Society, despite all its achievements, will have failed if it cannot work toward ending poverty. Poverty, by and large man-made, prevents humanity from achieving its full potential. It devastates the lives of young and old, man and woman, urban and rural dweller. It is prevalent across the world, found in the richest cities and festering in the poorest villages.


In the time of the CoronaVirus
As the CoronaVirus races across the world, many cities, towns and smaller communities have never faced a greater challenge. While governments and other national institutions have developed strategies and established the legal frameworks to combat the Virus (COVID-19), it is at local level where the consequences of the pandemic are felt strongest and have primarily to be dealt with.

In recognition of the extraordinary demands many city leaders in Asia, Europe, Africa and the Americas are confronted with, the 2020 World Mayor Project will honour mayors who have performed exceptionally to protect their citizens and communities from the effects of the CoronaVirus pandemic.

Please nominate a mayor who has shown great leadership during the CoronaVirus crisis for the 2020 World Mayor Prize. NOMINATION FORM

There is no universal solution to dealing with poverty. Deprivation, neglect and inequality take many forms. They affect communities and individuals in hundreds of different ways. Fighting poverty, like all the big issues that concern society, requires global actions. However, it has long been acknowledged that national governments alone cannot bring about the necessary changes and conditions under which this can be achieved and therefore city leadership has a crucial role to play in setting ambitious goals and policies to combat poverty, especially in communities.

The 2020 World Mayor Project is dedicated to mayors who have made the fight against poverty one of their top priorities. During the course of 2020, World Mayor will report on poverty in cities from across the world, examine the causes of poverty and highlight local government actions against poverty and achievements. The 2020 World Mayor Prize and Commendations will be conferred on mayors who have made outstanding and long-lasting contributions to relieving poverty in the their communities.

Mayors to be considered for the World Mayor Honours will also have shown that they regard all local residents, including the poor and the vulnerable, as valuable members of their communities. Mayors will not tolerate any form of discrimination against people who have little. Mayors will ensure their rights in society and protect their dignity.

The World Mayor Project is now inviting the public to propose mayors, who are 'fighters against poverty'. Nominations from all world regions are accepted until the summer of this year. A dedicated nomination form is accessible from PCs, tablets and smart phones. In addition to providing supporting information about the suggested mayors, participants are also asked to supply examples of poverty in their cities.

PLEASE NOMINATE YOUR CANDIDATE FOR THE 2020 WORLD MAYOR PRIZE


The 2020 Longlist
First Edition
The first edition of the longlist for the 2020 World Mayor Prize includes 37 mayors from 22 countries in most world regions: North America (10); South America (3); Europe (14); Asia (6); Australasia (0); Africa (4). Some mayors govern large metropolises, such as Los Angeles, Mexico City or Delhi while others represent smaller towns and cities. MORE


Definitions of poverty
Poverty is about the lack of the very basic requirements to survive – food, housing, health, safety – but also about insufficient provision to allow growth and development – education, tools, opportunities. The United Nations adds: "Fundamentally, poverty is the inability of having choices and opportunities, a violation of human dignity. It means lack of basic capacity to participate effectively in society. It means not having enough to feed and clothe a family, not having a school or clinic to go to, not having the land on which to grow one's food or a job to earn one's living, not having access to credit. It means insecurity, powerlessness and exclusion of individuals, households and communities. It means susceptibility to violence, and it often implies living in marginal or fragile environments, without access to clean water or sanitation." MORE


Code of Ethics
for city leaders
The City Mayors Foundation and the World Mayor Project were established in 2003 to promote, encourage and facilitate good local government. To strengthen local government further, a Code of Ethics for city leaders, who wish to perform their duties beyond all reproach, has been devised. MORE


World Mayor Prize sculpture
shows courage and conviction
City Mayors commissioned French artist Manuel Ferrari to design a sculpture that was as unique as the city of the winning mayor. City Mayors' senior fellow, Tann vom Hove, said: "We asked Manuel Ferrari to produce a design that shows what an inspirational mayor can achieve if he builds on strong foundations." MORE

PLEASE NOMINATE YOUR CANDIDATE FOR WORLD MAYOR 2020


---

World Mayor 2018
Ancona Mayor Valeria Mancinelli
wins the 2018 World Mayor Prize


2018 Results

|||

2018 Project

|||

History

|||

Raison d'être

|||

The Prize



The 2018 World Mayor Project is dedicated to women in local government. It features the achievements of women mayors from across the world and honours the best of them. The all-women long- and shortlists included mayors from towns and cities of all sizes who have served with integrity, determination and imagination. The 2018 World Mayor Prize and Commendations as well as the title Mayors of Distinction are conferred on female mayors who have instigated outstanding and long-lasting improvements to their communities and contributed new thinking to local government. The mayors' achievements are recognised beyond their cities and even countries.

Winner of the 2018 World Mayor Prize




• Valeria Mancinelli, Mayor of Ancona, Italy

World Mayor Commendations awarded to

• Ros Jones, Mayor of Doncaster, UK

• Nathalie Appéré, Mayor of Rennes, France

• Charlotte Britz, Mayor of Saarbrücken, Germany

• Beng Climaco, Mayor of Zamboanga City, Philippines

2018 Mayors of Distinction

• Henriette Reker, Mayor of Cologne, Germany

• Betsy Prize, Mayor of Fort Worth, USA

• Martine Aubry, Mayor of Lille, France

• Anne Hidalgo, Mayor of Paris, France

• Jasna Gabric, Mayor of Trbovlje, Slovenia

• Souad Abderrahim, Mayor of Tunis, Tunesia

FULL RESULTS ||| OBJECTIVES & METHODOLOGY

The 2018 Shortlist

Some 27 mayors

from 20 countries

The shortlist for the 2018 World Mayor Prize, which was announced on 4 September 2018, includes 27 female mayors from 20 countries who have entered local politics not because they wanted or needed to prove that women can succeed in an environment shaped by men but because they believed they had the right ideas, skills and ambitions to help their communities to flourish. World Mayor 2018 features the achievements and goals of women mayors from across the world and honours the best of them. The short list closed on 30 November 2018.

THE SHORTLIST


---
ABOUT WORLD MAYOR
| | | | |
| --- | --- | --- | --- |
| The World Mayor Project was conceived in 2004 to raise the profile of mayors worldwide and honour those who have served their communities well. The Honours are awarded to mayors who have worked for the benefit of all citizens, irrespective of race, gender, religion, politics or legal status. | | Winners of the World Mayor Prize since 2004: Edi Rama, Tirana; Dora Bakoyannis, Athens; John So, Melbourne; Helen Zille, Cape Town; Marcelo Ebrard, Mexico City; Iñaki Azkuna, Bilbao; Naheed Nenshi, Calgary; Bart Somers, Mechelen; Valeria Mancinelli, Ancona. | |
| | | | |


WORLD MAYOR 2020
In the time of
the CoronaVirus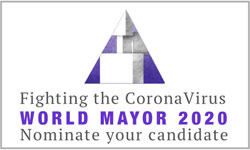 As the CoronaVirus races across the world, many cities, towns and smaller communities have never faced a greater challenge. While governments and other national institutions have developed strategies and established the legal frameworks to combat the Virus (COVID-19), it is at local level where the consequences of the pandemic are felt strongest and have primarily to be dealt with.

Local governments, health and social services, the police as well as voluntary organisations are not only tasked to carry out national directives but, more importantly, must reassure an anxious public. The authorities, based in town and city halls, must maintain vital public services at a time when many social, cultural and commercial activities have been curtailed. Mayors and their administrations also have a particular duty of care for the poor, sick, elderly and the most vulnerable members of their communities.

In recognition of the extraordinary demands many city leaders in Asia, Europe, Africa and the Americas are confronted with, the 2020 World Mayor Project will honour mayors who have performed exceptionally to protect their citizens and communities from the effects of the CoronaVirus pandemic.

Please nominate a mayor who has shown great leadership during the CoronaVirus crisis. NOMINATION FORM

WORLD MAYOR 2020
FIGHTING POVERTY



Thousands of mayors worldwide are fighting poverty in their communities. Please nominate the best of them for the 2020 World Mayor Prize.

WORLD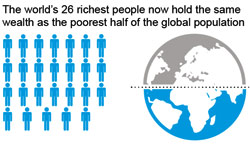 In 2018, the wealth of the world's billionaires increased by US$2 billion a day, while the world's poorest 3.8 million people became poorer by 11%. (Source: Oxfam)

USA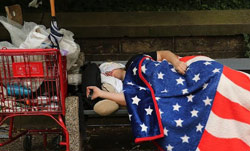 In the US, more than one in every eight Americans, numbering 40 million, equal to 12.7% of the population, are living in poverty and almost half of those – 18.5 million – in abysmal poverty. In 2016, 18% of children – some 13.3 million – were living in poverty, with children comprising 32.6% of all people in poverty. In the OECD the US ranks 35th out of 37 in terms of poverty and inequality. (Sources: UN Office of the High Commissioner of Human Rights and the Stanford Center on Inequality and Poverty)

CANADA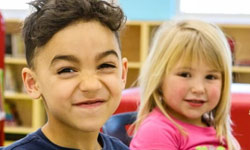 In Alberta, Canada, child poverty has fallen from 10% to 5% thanks to a range of federal, state and municipal initiatives. As part of Cities Reducing Poverty, Calgary provided free, healthy lunches and snacks for anyone who texted the word 'food'. (Source: Tamarack Institute)

LATIN AMERICA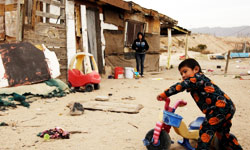 In Latin America, income inequality and the amount of people living in extreme poverty are rising. While Mexico has made some progress, it would take until 2035 until the country would reach its poverty goals. Mexico is not the only country struggling to address rising poverty. In all of Latin America, 84 million people are still poor. Even more alarming, 63 million live in extreme poverty, the highest number in a decade. (Source: National Council for the Evaluation of Social Development Policy)

ARGENTINA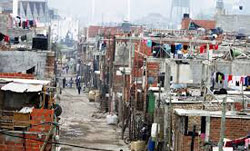 In Argentina, some 12.7 million people are now suffering from a lack of food, housing and access to healthcare and education. In Greater Buenos Aires, the most populated region of Argentina, the poverty rate rose to 41.1%. In 2018 alone, 750,000 people in the region slipped into poverty. (Sources: Argentina Catholic University and the Observatory of Argentina Social Debt)

UK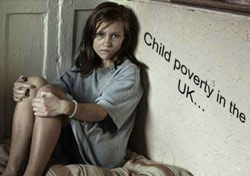 In Britain, 4.1 million children live in poverty, a figure expected to rise to 5.2 million by 2022. Children from Black and minority ethnic groups are more likely to be in poverty: 45 per cent are now in poverty, compared with 26 per cent of children in White British families. (Source: Child Poverty Action Group)

FRANCE


In some banlieues of Paris more than 40% of residents live below the poverty line, compared to 14% nationally. Unemployment, at 24% - 38% among young people - is more than double the national average. (Sources: Observatoire des inégalités and Le Monde)

GERMANY


Germany's 930 food banks support more than 1.5 million people in need of food throughout the country – nearly one third of them are children and young people. (Source: Tafel Deutschland)

GREECE


A refugee camp on the Greek island of Samos built to house 640 people is home to 3,745, with unaccompanied children forced to sleep on the floor of windowless and overcrowded containers. The Mayor of Samos warned of riots due to the 'primitive' conditions. (Sources: European Union audit, The Guardian newspaper and Agence France Presse)

SPAIN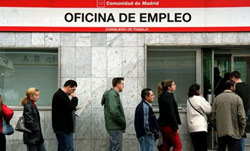 In Spain, one of every six middle-class families now lives below the poverty line. (Source: Oxfam)

AFRICA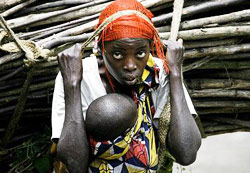 The 22 richest men in Africa own more wealth than all African women combined. (Source: Oxfam)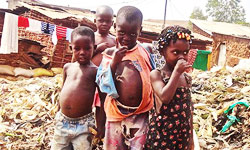 In Sub-Saharan Africa, the overall number of extremely poor people is increasing rather than decreasing, according to the World Bank's latest Poverty and Shared Prosperity report. Globally, rates of extreme poverty — defined as earning less than $1.90 (€1.64) a day — have dramatically declined, falling from 1.9 billion in 1990 to approximately 736 million now. However, an estimated 413 million people in Africa currently live in extreme poverty — more than half of the world's total. (Source: World Bank)

KENYA


In Nairobi, Kenya, so-called slum schools help improve the prospects for the children within the slums by providing sustained educational facilities, essential healthcare . (Source: Nairobi Slums School Project Trust)

SOUTH AFRICA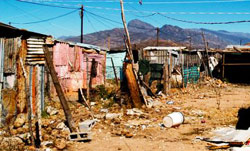 In South Africa, 30.4 million people live in poverty. (Source: Oxfam)

AUSTRALIA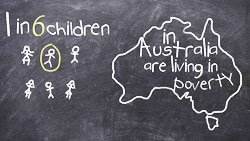 In Australia, three million people live in poverty. Some 731,000 are children and a total of 1.1 million are under the age of 24. (Source: Australian Council of Social Services)

INDIA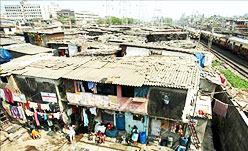 In India, some 370 million people still live in poverty despite a reduction of 50% since the 1990s. (Sources: World Bank and UN Development Programme)

LEBANON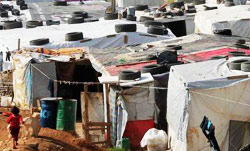 Lebanon has hosted an estimated 1.5 million refugees since 2011, the highest per capita number of any country in the world. (Source: World Food Programme)

JAPAN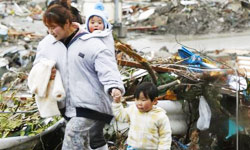 One in seven children in Japan lives in relative poverty. Since poverty is passed on from generation to generation, its effects multiply into the future. New legislation calls on municipal governments, in addition to prefectural authorities, to draft action plans to address the problems faced by children from low-income backgrounds. (Source: Nikkei Asian Review)