Mohammad Baqer Ghalibaf, Mayor of Tehran, Iran




FRONT PAGE
About us

The 2010 results
The 2010 project
The 2010 finalists
Code of Ethics
The World Mayor Prize
The 2008 results
The 2008 project
The 2008 finalists
The World Mayor Award
Helen Zille thanks supporters
Mayors of Melbourne and Cape Town exchange letters

With Mayor of Cape Town
With Mayor of Zurich

On Mayor of Cape Town
On Mayor of Chacao
On Mayor of Gothenburg
On Mayor of Guayaquil
On Mayor of Marikina City
On Mayor of Memphis
On Mayor of Nuremberg
On Mayor of Phoenix
On Mayor of Porto Alegre
On Mayor of Tehran
On Mayor of Villa Nueva
On Mayor of Zurich

The 2006 results
Methodology
The 2006 finalists
The World Mayor Award
Dora Bakoyannis congratulates John So

The 2005 results
Contest methodology
List of finalists
Winning mayors write
Mayor Rama writes - Mayor Bakoyannis replies

The 2004 contest
List of all 2004 finalists
Edi Rama wins 2004 award
People ask - Edi Rama replies

Front Page
Site Search
About City Mayors
Comments in support of
Mohammad Baqer Ghalibaf
Mayor of Tehran (Iran)

The finalists for the 2008 World Mayor Award were chosen on the number of votes received and, more importantly, on the persuasiveness and conviction of supporting statements. Below we publish a representative selection of comments received about Mohammad Baqer Ghalibaf, Mayor of Tehran, Iran.

Comment: Since Dr Ghalibaf started as mayor of Tehran we can see many positive changes in the city. I have lived in Europe for some years and even can say that some of his ideas could be copied by European cities. I wish him a good luck and success.

Comment: He is a perfect mayor for Tehran and his work is improving the city.

Comment: Mayor Ghalibaf is very brave in challenging economic mismanagement of national government.

Comment: Understanding the complexity of power and political environment of Iran, give Mr Ghalibaf more credit, in comparison to other mayors of metropolitan cities such as London or Rome. Those mentioned complication make the Mayor of Tehran's job a mission impossible. Mr Ghalibaf, apparently by staying away from centre of political dispute, especially by being patience and rather moderate (until recent dispute over the very early presidential battlefield) could prove his capabilities. I think what he has done for Tehran, as I said earlier by considering the various contexts (political, social, economical and cultural) of Iran, is extraordinarily good. I live in Europe and am teaching Urban Design in University, and always follow the news about the urban change and regenerations in Iran. Good luck Mr Ghalibaf and long live Iran.

Comment: Dr Ghalibaf is open minded, market oriented, a reformist, conservative pragmatist and provides administrative efficiency. The ideal mayor for a city like Tehran or indeed President of Iran.

Comment: A survey showed that majority of people are satisfied with Mayor Ghalibaf. He made a lot of changes to Tehran's public transportation. He has improved Tehran's cinemas and theatres as he believes that art is really important for Tehran's people, He made a lot of parks and for the first time he published how much he spent in the town hall because in the past there was fraud there. He knows how to manage the crisis in Tehran.

Comment: He has done fantastic job changing Tehran into a modern city.

Comment: I do not know whether Dr Ghalibaf is the best mayor in the world, as I haven't followed other mayors activities carefully. But he is certainly a very good mayor. The reasons include:
• He put a clear time line for many big projects by big banners near that project, and tried to complete them in time, which for the most part he succeeded.
• He increased the investment (both foreign and local) significantly, resulting in many cultural and civil activities.
• For the first time since the revolution new cinemas are being built.
• He built 500 high quality small football yards in the city and children now have a good place to play.
• He built more than 60 bases for crisis management overall the city, in order to be able to deal with a crisis like earthquake.
• He recently started many big renovation and rehabilitation projects in order to secure the building in the poor parts of the city.
• He started many cultural activities, like building a very large theatre hall, building a huge book garden, and many sport complexes.
• He founded the 'women' organization, for the first time in Tehran municipality.
• He nearly doubled the activities related to building metro.
• He built more than 60 sport complexes for women. Women do not have good opportunities to have athletic activities in Iran.
• He built many small parks in many neighbourhoods.
• He built a large BRT line that connects the eastern-most point of Tehran to its western-most point.
• He installed many CCTV cameras in highways and nearly tripled the length of fiber optic network in the city, resulting in better monitoring, and hence better management.
• He used many people from the reformist party in Iran, although he does not belong to that party. This is not ordinarily done in our country, as the atmosphere is highly political.
• He managed this winter's snow crisis so well that even his opponents admired him.
• He attached to every project an environment saving project, in order to secure the environment from non-sustainable development.
• He has just been mayor for 2.5 years. I think that's enough for that period!

Comment: I live in Tehran and see what he did and is doing in Tehran. He is the most useful mayor of Tehran since Iran's Islamic revolution.

Comment: He is realy the best mayor Tehran had during the past 50 years. He has strategic ideas and is going to develope Tehran and improve its urban services.

Comment: Educated, anti-goverment, handsom, open to Information Technology.

Comment: He is an excellent manager with clear ideas and very resolved in his way. However, he is not as good a politician as he would like to be.

Comment: The government hates Ghalibaf but I love him. He is the best mayor for Tehran.

Comment: Though I'm not interested in his political view, he's the perfect manager for the metropolitan district of Tehran!

Comment: It is an extremely difficult job to be Mayor of Tehran, but it is even more difficult to clean up the mess his predecessor left behind!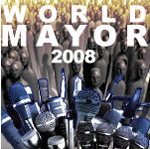 Some 205,000 people from across took part in the 2008 World Mayor Project






AFRICA
• Omar El Bahraoui, Rabat, Morocco
• Helen Zille, Cape Town, South Africa
• Amos Masondo, Johannesburg, South Africa


NORTH AMERICA
• Stephen Mandel, Edmonton, Canada
• Sam Katz, Winnipeg, Canada
• Martin Chavez, Albuquerque, USA
• Michael B Coleman, Columbus, USA
• Mufi Hannemann, Honolulu, USA
• Antonio Villaraigosa, Los Angeles, USA
• Willie W Herenton, Memphis, USA
• Manny Diaz, Miami, USA
• Raymond Thomas Rybak, Minneapolis, USA
• Phil Gordon, Phoenix, USA


LATIN AMERICA
• Julio César Pereyra, Mayor of Florencio Varela, Argentina
• José Fogaça, Porto Alegre, Brazil
• Juan Contino Aslán, Havana, Cuba
• Jaime Nebot, Guayaquil, Ecuador
• Paco Moncayo, Quito, Ecuador
• Salvador Gandara, Villa Nueva, Guatemala
• Antonio Astiazaran, Guaymas, Mexico
• Ernesto Gandara, Hermosillo, Mexico
• Ricardo Ehrlich, Montevideo, Uruguay
• Juan Barreto, Caracas, Venezuela
• Leopoldo Eduardo López, Chacao, Venezuela


ASIA
• Han Zheng, Shanghai, China
• Zhang Guangning, Guangzhou, China
• C M Sheila Dikshit, Delhi, India
• Fauzi Bowo, Jakarta, Indonesia
• Mohammad Baqer Ghalibaf, Tehran, Iran
• Tadatoshi Akiba, Hiroshima, Japan
• Hiroshi Nakada, Yokohama, Japan
• Marides Fernando, Marikina City, Philippines
• Vladimir Gorodets, Novosibirsk, Russia
• Park Wan-soo, Changwon City, South Korea
• Kadir Topbas, Istanbul, Turkey


EUROPE
• Patrick Janssens, Antwerp, Belgium
• Boiko Borisov, Sofia, Bulgaria
• Eleni Mavrou, Nicosia, Cyprus
• Bertrand Delanoë, Paris, France
• Pierre Albertini, Rouen, France
• Jens Böhrnsen, Bremen, Germany
• Ulrich Maly, Nürnberg, Germany
• Wolfgang Schuster, Stuttgart, Germany
• Kyriakos Virvidakis, Chania, Greece
• Sergio Cofferati, Bologna, Italy
• Walter Veltroni, Rome, Italy
• Rafal Dutkiewicz, Wroclaw, Poland
• Rosa Aguilar, Cordoba, Spain
• Göran Johansson, Gothenburg, Sweden
• Elmar Ledergerber, Zurich, Switzerland