Elmar Ledergerber, Mayor of Zurich, Switzerland




FRONT PAGE
About us

The 2010 results
The 2010 project
The 2010 finalists
Code of Ethics
The World Mayor Prize
The 2008 results
The 2008 project
The 2008 finalists
The World Mayor Award
Helen Zille thanks supporters
Mayors of Melbourne and Cape Town exchange letters

With Mayor of Cape Town
With Mayor of Zurich

On Mayor of Cape Town
On Mayor of Chacao
On Mayor of Gothenburg
On Mayor of Guayaquil
On Mayor of Marikina City
On Mayor of Memphis
On Mayor of Nuremberg
On Mayor of Phoenix
On Mayor of Porto Alegre
On Mayor of Tehran
On Mayor of Villa Nueva
On Mayor of Zurich

The 2006 results
Methodology
The 2006 finalists
The World Mayor Award
Dora Bakoyannis congratulates John So

The 2005 results
Contest methodology
List of finalists
Winning mayors write
Mayor Rama writes - Mayor Bakoyannis replies

The 2004 contest
List of all 2004 finalists
Edi Rama wins 2004 award
People ask - Edi Rama replies

Front Page
Site Search
About City Mayors
Comments in support of
Elmar Ledergerber
Mayor of Zurich (Switzerland)
The finalists for the 2008 World Mayor Award were chosen on the number of votes received and, more importantly, on the persuasiveness and conviction of supporting statements. Below we publish a representative selection of comments received about Elmar Ledergerber, Mayor of Zurich.

Comment: We love this guy!

Comment: I have had the pleasure of working with Elmar Ledergerber. He has impressed me with his wide-ranging knowledge, his dedication to his job and his willingness to ask for and take advice, The mayor has the qualities to succeed in any high public position or top job in business. I hope he will continue to offer his services to Zurich and Switzerland for many years to come.

Comment: He is a handsome, energetic and intelligent mayor.

Comment: He always gives his best. Elmar Ledergerber is a people's mayor. You can see him in a fast food restaurant and shake hands or you can hear him speaking in parliament and you believe what he says!

Comment: Elmar Ledergerber does a fabulous job as mayor of this great city! He deserves to be the winner!

Comment: Elmar doesn't *rule* the city, he lives *with* the people. He has a sure instinct for the needs of Zurichs inhabitants, is very successful, always polite, interested in many different issues and most of all highly passionate about his job! He is not only a role model but also just a cool guy from the neighbourhood! Go Elmi go!!!

Comment: Elmar Ledergerber deserves this honour, he loves his hometown Zurich.

Comment: Elmar Ledergerber has the unique capability to integrate the diverse political interests of the rich banks and the ordinary citizens, and achieve consensus on a good balance between moderate taxes and responsible spending for social welfare.

Comment: Elmar Ledergerber is smart and articulate, he listens to the people, in fact he is very approachable and friendly, has an excellent way to communicate and explain his visions yet with the right amount of tenacity to get them into reality. Zurich is a wonderful town with an outstanding quality of life - and this also thanks to our Mayor Mr. Ledergerber who has significantly contributed to this success over the years.

Comment: Mr Ledergerber does a lot for the city of Zurich, including preparing her in the best possible way for the upcoming UEFA EURO 2008 soccer championship! Zurich by the way was voted last year the city with the highest standard of living in the world. So he has a very important job to do each day. Also Mr Ledergerber takes over full responsibility for what he does as a mayor and its consequences. That's why I choose him to be World Mayor 2008.

Comment: The mayor helped to turn Zurich into a great Party Town!

Comment: You can feel every day how he loves the city of Zurich

Comment: The worlds best mayor for one of the nicest towns of the world

Comment: Elmar is dedicated to the sustainable devopment of Zurich, public transportation, high quality of life of the people living here (also the poor) and he encourages the arts. Therefore he should be World Mayor.

Comment: He is outspoken and can move and change things - and he brings Zurich out into the world...

Comment: After a large period of decline, Zurich is now vibrant again - not only has it been rated number1 for quality of living in the relevant Mercer study for years now, but it is now developing further. Mr Ledergerber is a major driving force behind the redevelopment of Zurich-West, the expansion of public transport, the re-discovery of urban recreational space... I have been living in Zurich for 4 years now and he is definitely my choice for world mayor.

Comment: Very sympatic guy who uses a bike to go to work

Comment: A thank you for Mr. Ledergerber und for his engagment. Our city Zurich is wonderful, clean, etc. He's the best!!!

Comment: Our Mayor, Elmar Ledergerber, is not only oriented on giving our city a international touch, but he also never loses the individual citizen out of his sight. So he can easily be contacted on his regular City-Tours, which he guides with wit and competences, or other enjoyable little personal events open to every interested person. I certainly speak for other elderly citizens (age 66) when I say: We love him!

Comment: He deserves to be mayor 2008 because he makes sure that Zurich continues to be the city with the highest quality of live. He's the man!!!

Comment: Elmar Ledergerber has brought Zurich back to life. The city is a lot more dynamic and attractive since he became mayor.

Comment: It is easy to be a 'good' mayor of this city because Zurich is so rich, and one can spend money on everything under the sun. I vote against Mr Ledergerber because I believe he tries to be popular by spending on everything under the sun without clear priorities for nuts-and-bolts tasks. The mayor and the eight equally-powerful executive members of the city government tend to have a patronizing attitude.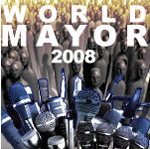 Some 205,000 people from across took part in the 2008 World Mayor Project






AFRICA
• Omar El Bahraoui, Rabat, Morocco
• Helen Zille, Cape Town, South Africa
• Amos Masondo, Johannesburg, South Africa


NORTH AMERICA
• Stephen Mandel, Edmonton, Canada
• Sam Katz, Winnipeg, Canada
• Martin Chavez, Albuquerque, USA
• Michael B Coleman, Columbus, USA
• Mufi Hannemann, Honolulu, USA
• Antonio Villaraigosa, Los Angeles, USA
• Willie W Herenton, Memphis, USA
• Manny Diaz, Miami, USA
• Raymond Thomas Rybak, Minneapolis, USA
• Phil Gordon, Phoenix, USA


LATIN AMERICA
• Julio César Pereyra, Mayor of Florencio Varela, Argentina
• José Fogaça, Porto Alegre, Brazil
• Juan Contino Aslán, Havana, Cuba
• Jaime Nebot, Guayaquil, Ecuador
• Paco Moncayo, Quito, Ecuador
• Salvador Gandara, Villa Nueva, Guatemala
• Antonio Astiazaran, Guaymas, Mexico
• Ernesto Gandara, Hermosillo, Mexico
• Ricardo Ehrlich, Montevideo, Uruguay
• Juan Barreto, Caracas, Venezuela
• Leopoldo Eduardo López, Chacao, Venezuela


ASIA
• Han Zheng, Shanghai, China
• Zhang Guangning, Guangzhou, China
• C M Sheila Dikshit, Delhi, India
• Fauzi Bowo, Jakarta, Indonesia
• Mohammad Baqer Ghalibaf, Tehran, Iran
• Tadatoshi Akiba, Hiroshima, Japan
• Hiroshi Nakada, Yokohama, Japan
• Marides Fernando, Marikina City, Philippines
• Vladimir Gorodets, Novosibirsk, Russia
• Park Wan-soo, Changwon City, South Korea
• Kadir Topbas, Istanbul, Turkey


EUROPE
• Patrick Janssens, Antwerp, Belgium
• Boiko Borisov, Sofia, Bulgaria
• Eleni Mavrou, Nicosia, Cyprus
• Bertrand Delanoë, Paris, France
• Pierre Albertini, Rouen, France
• Jens Böhrnsen, Bremen, Germany
• Ulrich Maly, Nürnberg, Germany
• Wolfgang Schuster, Stuttgart, Germany
• Kyriakos Virvidakis, Chania, Greece
• Sergio Cofferati, Bologna, Italy
• Walter Veltroni, Rome, Italy
• Rafal Dutkiewicz, Wroclaw, Poland
• Rosa Aguilar, Cordoba, Spain
• Göran Johansson, Gothenburg, Sweden
• Elmar Ledergerber, Zurich, Switzerland