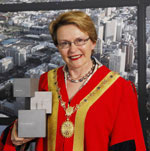 Cape Town Mayor Helen Zille with the 2008 World Mayor Prize




FRONT PAGE
About World Mayor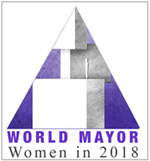 Please nominate your candidate for the 2018 World Mayor Priz
• THE 2014 WINNERS
• THE 2014 PROJECT
• WM HISTORY
• The 2014 shortlist
• The 2014 longlist
• Code of Ethics
• The World Mayor Prize



The 2012 results
The 2012 project
The 2012 shortlist
The 2012 long-list
Code of Ethics | Código de Ética |
The World Mayor Prize
World Mayor Prize winners exchange letters



Mayor of Bilbao debates
Mayor of Perth debates
Mayor of Bilbao interview
Mayor of Perth profile



The 2010 results
The 2010 project
The 2010 finalists
Code of Ethics | Código de Ética |
The World Mayor Prize
Marcelo Ebrard says thank you
Mick Cornett says thank you
Helen Zille and Marcelo Ebrard exchange letters


With Mayor of Mexico City
With Mayor of Oklahoma City

On Mayor of Brisbane
On Mayor of Calgary
On Mayor of Caracas
On Mayor of Chania
On Mayor of Dubai
On Mayor of Hartlepool
On Mayor of Karachi
On Mayor of Mexico City
On Mayor of Naga City
On Mayor of New Plymouth
On Mayor of Newark
On Mayor of Oklahoma City
On Mayor of Riace
On Mayor of Surrey
On Mayor of Ulm
The 2008 results
The 2008 project
The 2008 finalists
The World Mayor Award
Helen Zille thanks supporters
Mayors of Melbourne and Cape Town exchange letters

The 2006 results
Methodology
The 2006 finalists
The World Mayor Award
Dora Bakoyannis congratulates John So

The 2005 results
Contest methodology
List of finalists
Winning mayors write
Mayor Rama writes - Mayor Bakoyannis replies

The 2004 contest
List of all 2004 finalists
Edi Rama wins 2004 award
People ask - Edi Rama replies

Front Page
Site Search
The City Mayors Foundation
Twenty-five mayors from across the world
competed for the 2010 World Mayor Prize
By Tann vom Hove, Senior Editor

7 December 2010: The 2010 World Mayor Project was conducted over an 18-month period, starting in spring 2009. During 2009 project organisers The City Mayors Foundation invited a worldwide audience to submit nominations of mayors deemed worthy of being counted among the most outstanding city leaders in the world. More than 118,000 voters nominated a total of 840 mayors for this year's World Mayor Prize. Some mayors received thousands of nominations while others collected only a handful. The organisers of World Mayor 2010 only considered those nominations that were accompanied by supporting testimonials.

Based on the number of nominations and the persuasiveness of supporting statements, City Mayors drew up a shortlist of 25 finalists. The list included two mayors from Australasia, six from Asia, eight from The Americas and nine from Europe.

Some of the 2010 finalists for the World Mayor Prize were from the world's largest and best known cities, while others represented smaller communities. Most of this year's finalists were short-listed for the first time. Under the World Mayor rules, winners and runners-up from previous years were not eligible.

During the second round of World Mayor 2010, from June to 22 September 2010, people were invited to select from the list of 25 finalists their choice of title candidate. In order to have their votes registered, participants had to provide a reasoned comment. More than 320,000 people from around the world participated in the second round of World Mayor 2010.

Finalists from:
Australasia | Asia | North America | Latin America | Europe |


• Please note: Mayors to be considered for the 2010 World Mayor Prize were required to be in office on 22 September 2010, the closing date of public partticipation. The following mayors from the shortlist resigned prior to that date for various reasons: Syed Mustafa Kamal (Karachi, Pakistan), Jesse M Robredo (Naga City, Philippines), Beto Richi (Curitiba, Brazil), Ole von Beust (Hamburg, Germany).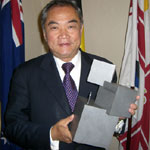 Melbourne Mayor John So with the 2006 World Mayor Prize


Introducing
World Mayor
The City Mayors Foundation, the international think tank for local government, organises the World Mayor Project and awards the World Mayor Prize. The Prize, which has been given since 2004, honours mayors with the vision, passion and skills to make their cities incredible places to live in, work in and visit. The World Mayor Project aims to show what outstanding mayors can achieve and raise their profiles nationally and internationally.

The organisers of the World Mayor Project are looking for city leaders who excel in qualities like: honesty, leadership and vision, management abilities and integrity, social and economic awareness, ability to provide security and to protect the environment as well as the will and ability to foster good relations between communities from different cultural, racial and social backgrounds. The winner receives the artistically acclaimed World Mayor trophy, while the two runner-ups are given the World Mayor Commendation.

Mayors wishing to be considered for the World Mayor Prize will be asked to sign up to the City Mayors' Code of Ethics

Timetable
Nominations were accepted until the 17 May 2012. A shortlist of 25 nominees was published on 18 June. Voting took place until 20 October . The winner of the 2012 World Mayor Prize and other results of the World Mayor Project were announced on 8 January 2013.

Winners and runners-up
2004 to 2012
In 2004: Winner: Edi Rama (Tirana, Albania); Runner-up: Andrés Manuel López Obrador (Mexico City, Mexico); In third place: Walter Veltroni (Rome, Italy)
In 2005: Winner: Dora Bakoyannis (Athens, Greece); Runner-up: Hazel McCallion (Mississauga, Canada); In third place: Alvaro Arzú (Guatemala City, Guatemala)
In 2006: Winner: John So (Melbourne, Australia); Runner up: Job Cohen (Amsterdam, Netherland); In third place: Stephen Reed (Harrisburg, USA)
In 2008: Winner: Helen Zille (Cape Town, South Africa); Runner up: Elmar Ledergerber (Zurich, Switzerland); In third place: Leopoldo López (Chacao, Venezuela)
In 2010: Winner: Marcelo Ebrard (Mexico City, Mexico); Runner-up: Mick Cornett (Oklahoma City, USA); In third place: Domenico Lucano (Riace, Italy)
In 2012: Winner: Iñaki Azkuna (Bilbao, Spain); Runner-up: Lisa Scaffidi (Perth, Australia); In third place: Joko Widodo (Surakarta, Indonesia)