Detail from the World Mayor award, designed by Manuel Ferrari



FRONT PAGE
About World Mayor


• First round:
Candidates sought
• The 2012 longlist
• Code of Ethics
• The World Mayor Price



The 2012 results
The 2012 project
The 2012 shortlist
The 2012 long-list
Code of Ethics | Código de Ética |
The World Mayor Prize
World Mayor Prize winners exchange letters


The 2008 results
The 2008 project
The 2008 finalists
The World Mayor Award
Helen Zille says thank you

The 2006 results
Methodology
The 2006 finalists
The World Mayor Award

Mayor of Amsterdam
Mayor of Augsburg
Mayor of Curitiba
Mayor of Denver
Mayor of Dubrovnik
Mayor of Harrisburg
Mayor of Houston
Mayor of Makati City
Mayor of Melbourne
Mayor of Middlesbrough
Mayor of New Orleans
Mayor of New York City
Mayor of Portland
Mayor of Seattle
Mayor of Taipei
Mayor of Tokyo
Mayor of Toronto
Mayor of Valencia (Spain)
Mayor of Valencia (Venezuela)

On Mayor of Amsterdam
On Mayor of Antananarivo
On Mayor of Augsburg
On Mayor of Bangalore
On Mayor of Belo Horizonte
On Mayor of Denver
On Mayor of Dubrovnik
On Mayor of Harrisburg
On Mayor of Houston
On Mayor of Istanbul
On Mayor of Makati City
On Mayor of Melbourne
On Mayor of Mulhouse
On Mayor of New Orleans
On Mayor of New York
On Mayor of Oradea
On Mayor of Phnom Penh
On Mayor of Seattle
On Mayor of Sofia
On Mayor of St Etienne
On Mayor of Taipei
On Mayor of Toronto
On Mayor of Valencia (VE)

By Mayor of Amsterdam
By Mayor of Augsburg
By Mayor of Belo Horizonte
By Mayor of Dubrovnik
By Mayor of Makati City
By Mayor of Melbourne
By Mayor of St Etienne
By Mayor of Sofia
By Mayor of Valencia

The 2005 results
Contest methodology
List of finalists
Winning mayors write
Mayor Rama writes - Mayor Bakoyannis replies

The 2004 contest
List of all 2004 finalists
Edi Rama wins 2004 award
People ask - Edi Rama replies
Why we voted for the Mayor of Tirana
Why we voted for the Mayor of Mexico City

Front Page
Site Search
About City Mayors
World Mayor Award sculpture
shows courage and conviction
When City Mayors conceived the World Mayor project in 2003, it was decided to make an annual award to mayors who has best shown that they have the vision, the passion and the skills to make their cities amazing places to live in, to work in and to visit. City Mayors commissioned French artist Manuel Ferrari to design a sculpture that is as unique as the city of the winning mayor. City Mayors editor, Tann vom Hove, said: "We asked Manuel Ferrari to produce a design that shows what an inspirational mayor can achieve if he builds on strong foundations."

Before contemplating design, Manuel Ferrari learnt as much as possible about the front-runners in the World Mayor project. "I wanted to know why these mayors could arouse such strong feelings," he said and added that all the mayors he studied had two characteristics in common - courage and conviction.

"I wanted to create a design that also showed courage and conviction," Manuel Ferrari explained. "I decided on cubes as building blocks which, at first glance, are stacked precariously on top of each other. Closer inspection, however, reveals firm interlocking and construction around an invisible but strong spine." He said that his design reflected his own experience of living and working in an urban environment. "Many of the world's most successful cities are prospering because their different communities, often with their own cultures, are united around civic goals," Manuel Ferrari concluded.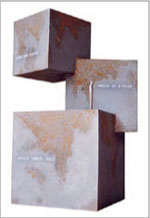 The World Mayor award has become a potent symbol for the achievements of city mayors worldwide

Introducing
Manuel Ferrari
Manuel Ferrari, born in Nice, studied traditional and 3D computer animation at the Surrey Institute of Art and Design in Farnham, England and at Supinfocom in Arles, France. His work includes three animated films using computer animation and models. The films have been shown at a number of international animation festivals in Europe. In 2002 he worked in Thailand. Since 2003, he has been working on a number of film projects and documentaries in London.

In September 2004, Manuel Ferrari was appointed City Mayors' creative director. He designed the critically acclaimed World Mayor Award.