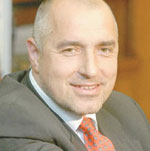 Boyko Borissov, Mayor of Sofia




FRONT PAGE
About us

The 2010 results
The 2010 project
The 2010 finalists
Code of Ethics
The World Mayor Prize
The 2008 results
The 2008 project
The 2008 finalists
The World Mayor Award

The 2006 results
Methodology
The 2006 finalists
The World Mayor Award
Dora Bakoyannis congratulates John So

With Mayor of Amsterdam
With Mayor of Harrisburg
With Mayor of Melbourne
With Mayor of St Etienne

Mayor of Amsterdam
Mayor of Antananarivo
Mayor of Augsburg
Mayor of Denver
Mayor of Dubrovnik
Mayor of Harrisburg
Mayor of Makati City
Mayor of Melbourne
Mayor of St Etienne
Mayor of Valencia

On Mayor of Amsterdam
On Mayor of Antananarivo
On Mayor of Augsburg
On Mayor of Bangalore
On Mayor of Belo Horizonte
On Mayor of Denver
On Mayor of Dubrovnik
On Mayor of Harrisburg
On Mayor of Houston
On Mayor of Istanbul
On Mayor of Makati City
On Mayor of Melbourne
On Mayor of Mulhouse
On Mayor of New Orleans
On Mayor of New York
On Mayor of Phnom Penh
On Mayor of Sofia
On Mayor of St Etienne
On Mayor of Taipei
On Mayor of Toronto
On Mayor of Valencia (VE)

By Mayor of Amsterdam
By Mayor of Augsburg
By Mayor of Belo Horizonte
By Mayor of Dubrovnik
By Mayor of Makati City
By Mayor of Melbourne
By Mayor of Valencia

The 2005 results
Contest methodology
List of finalists
Winning mayors write
Mayor Rama writes - Mayor Bakoyannis replies

The 2004 contest
List of all 2004 finalists
Edi Rama wins 2004 award
People ask - Edi Rama replies

Front Page
Site Search
About City Mayors

Boyko Borissov
Mayor of Sofia, Bulgaria
It was no surprise when in October 2005 General Boyko Borissov was elected Mayor of Sofia, Bulgaria's capital and the country's largest city. "I will be mayor of all citizens, no matter if they have voted for me or for my opponents", he declared moments after the results were announced. He secured his victory with more than 68 per cent of the votes.

Since his election Mayor Borissov has focused his work on the everyday problems and issues that concern the citizens of Sofia. His high personal rating came from a public enthusiastic over his plans for new municipal initiatives and policies ranging from ecology, culture and sport to fighting corruption.

On ecology and environmental issues, he declared:
"Our city and I as Mayor, have three major problems or issues to deal with in the sphere of ecology and protection of the environment. What concerns us most is the problem with homeless dogs, household waste treatment and the cleanliness of the city's streets and boulevards. My personal ambition is to make serious progress in solving these problems by the end of my mandate. No matter what the solution will be, the most important thing for me is for citizens to feel the change.

"On stray dogs, the municipality has undertaken the obligation to take urgent, unyielding but also careful measures to cope with this problem. These measures envisage that aggressive homeless dogs, inhabiting the city streets, parks and gardens of Sofia to be put under urgent isolation. This initiative is to be performed in close cooperation and interaction with different NGOs and environmental organizations – national and international. I personally insisted that the municipality should provide NGOs with the necessary computer equipment and premises for the development of new project proposals and programmes, regarding this problem.

"We have already given the National Foundation for Animal Protection a free hand in its intention to build an asylum for homeless dogs. Here is the most suitable place to stress the fact that the municipal strategy on these matters is strongly supported by His Excellency, the Ambassador of the Federal Republic of Germany, who promised to secure EU funding for building pet asylums through German environmental organizations. To the concrete results of this initiative we can also add the opening of a brand new (second) animal asylum which is up-to-date with regard to the latest European standards."

Mayor Borissov said his most serious challenge is in the environmental sphere with regard to the critical situation on waste treatment and city cleanliness. He and his administration have accomplished several important objectives. "We introduced the central state authorities to the problem by organizing numerous meetings with different Ministers and Members of Parliament. Together with this, through an active policy, we entered into close cooperation with NGOs and started 'environment impact assessment' initiatives as well as procedures for collecting investment proposals for the construction of a waste treatment plant. "

The Mayor's approach showed his willingness for dialogue and cooperation with all social partners as well as his firm intention to defend the interests of the citizens, even if it meant conflict. His efforts brought the problem to the notice of the country, making it a national rather than a regional problem. He has also brought it to the attention of the EU, with the hope of funding. "If we want to build a European image of Sofia we need to keep the city clean," he said.

He is also seeking to bring into line the inefficiency of many building contractors. "The view of muddy and ruined streets and parks due to construction works is absolutely unacceptable for me personally, and for Sofia's citizens," he declared.

The Mayor added: "To strengthen Sofia's position as the greenest capital in the region I initiated the reconstruction and rehabilitation of the city's parks and gardens. Thanks to the help of many private companies we managed to bring new life to the green places in Sofia."

Culture and historic monuments
When he became Mayor he promised to make Sofia a much more attractive city both for residents and visitors to enjoy. As part of that promise, the municipality has managed to provide 43 temples and seven historic monuments with artistic illumination systems. With The Holy Synod fully aware and supporting this initiative, by next Easter all churches in Sofia will be illuminated. Another part of this initiative has been to improve the city's image by turning some of the most historic boulevards into walkways. Vitosha Boulevard was the first to become a walkway, with more than 80 per cent of Sofia's inhabitants welcoming it.

Sport

Mayor Borissov is a well-known lover of sport. He says that every sports organization or club can rely on his support and cooperation. He is mostly keen on football and martial arts but has always demonstrated his willingness to cooperate and interact with sportsmen and sport organizations of all kinds. The Sofia's Sport Association was formed as a result of cooperation between the Mayor and the United Sport Clubs (USC). Its purpose is to coordinate the efforts of the municipality, the clubs and the state to build a unified sports policy for Sofia. The city is to build five new ice skating rinks – four of them for public use and the fifth for professionals.

Social issues
From the very beginning of his mandate, Mayor Borissov began an aggressive social policy. His main purpose is to improve the social conditions of all classes in Sofia. In this he has succeeded in attracting the attention of the Ministry of Labour and Social Policy, thus involving the state itself in his cause. Within this framework social resorts will be built in the capital, including houses for the elderly, temporary shelters and day centres for children. The administration is also deeply engaged in the welfare of the disabled.

The Fight against corruption
It would be difficult to dispute the fact that Mayor Borissov owes his popularity to the vigour with which he has fought corruption and introduced administrative reforms. With his background experience as a former Secretary General of the Ministry of Interior, he has demonstrated that he will not tolerate corruption, abuse or unfinished work. He is well aware of the fact that both citizens and the EU need to see evidence of this. He understands fully that corruption and inertness in local administration could ruin the image of Sofia and would be a serious obstacle to the city's development as a modern European capital.

The most telling example of his administration's successful fight against corruption came as a result of full-scale audits of all municipal companies. The results were stunning. Inspectors found serious abuses in almost every firm and company. Mayor Borissov personally insisted on the dismissal of the governing bodies of the companies concerned and that managers should bear legal responsibility for their actions.

The General has also made it clear that citizens must receive fast and efficient services from the local administration and that official indifference to the every day problems of citizens would not be tolerated. Due to incompetence and lack of interest, one of the regional mayors in Sofia was dismissed and the citizens were offered the opportunity of nominating their own candidate for the vacant position.

Urban planning
The main guidelines in Mayor Borissov's urban planning policy are few but important: effectiveness, usefulness, necessity, security and quality. So far there have been four important accomplishments. First, the large-scale campaign for improving the quality of the city's infrastructure; second, the installation of video surveillance systems in the city and the renovation of the auto park for public transport - all done with the single aim of providing citizens with quality services and security - third, the construction of new parking areas and garages; and forth, the introduction of new public transport vehicles and GPRs surveillance.

However, the most important infrastructure projects remain the construction of the city subway, the ring road and the waste treatment plant. All of these projects have demonstrated significant progress during Mayor Borissov's mandate. Construction work on the subway network continues with high intensity with two new metro stations expected to open next year.

European integration
Mayor Borrisov declared: "I entirely support the accession of the Republic of Bulgaria to the European Union and I will do my best to make Sofia a European capital – a worthy member of the European Community. The municipality will work hard in all dimensions in the public, economic, social, cultural and sports areas in order to improve the lives of citizens. I will make all necessary efforts to justify people's confidence and to deserve their trust by making the capital a greener, cleaner, safer, modern city, with better public transport, good infrastructure and improved social, health care and administrative services in accordance with European standards."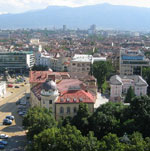 Sofia, capital city of Bulgaria


Introducing Sofia
Sofia, the capital of the Republic of Bulgaria, is the centre of the country's political, economic and cultural life. Founded seven thousand years ago, it is the second oldest city in Europe. It has been given several names in the course of its history and the remnants of the old city can still be seen today.

Serdika was the name of the central dwelling of the ancient Thracian tribe known as "Serdi". It bore that name when it became part of the Bulgarian state at the beginning of the ninth century and was soon recognised as one of the most important feudal towns, acquiring the Slavic name Sredets.

Near Sofia lies Boyana church, which is one of the most valuable memorials of Bulgarian and European culture. The church boasts frescoes that are acclaimed by specialists as "the best examples of eastern mediaeval art during its twelve century history".

The decline of Sofia during the Ottoman Empire was followed by rejuvenation after its liberation in 1879, when Sofia was chosen as the capital of Bulgaria at the First National Constituent Assembly. The plans of 1881-1882 were followed by a brisk and straightforward period of construction. In 1900 the City Council approved the emblem of Sofia and the motto "It Grows but Does not Age". It soon became the major centre for national economics, academia and culture.

In 1992, in honour of the celebration of St. Sofia the Martyr, the government chose September 17th as the Day of Sofia. The flag of the Sofia Municipality was also consecrated on that day. At present Sofia's population is approximately two million. Its beautiful parks have given rise to its reputation as a "green" city. Its geographical position combined with the great variety of cultural monuments makes it an attractive destination for both international and domestic tourists.

On infrastructure and socio-economic matters, Sofia is the best-developed city in Bulgaria as well as being the most attractive one for foreign investments. Over the past 15 years Sofia has attracted half of all the investments made in the county.

The city has a wide network of beautiful buildings which includes 23 theatres, 29 museums and 33 cinemas, making Sofia the cultural centre of Bulgaria. It also has highly developed transport facilities and stands at the crossroads of three Pan-European transport corridors. It has the largest international airport in the country.

With the forthcoming accession of Bulgaria to the EU on 1 January 2007, it is of great importance for Sofia, as the main administrative, economic and political unit of the country, to understand fully the peculiarities of the integration processes and how they will influence local government development.