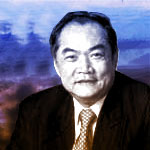 John So, Lord Mayor of Melbourne and winner of the 2006 World Mayor Award




FRONT PAGE
About us

The 2010 results
The 2010 project
The 2010 finalists
Code of Ethics
The World Mayor Prize
The 2008 results
The 2008 project
The 2008 finalists
The World Mayor Award

The 2006 results
Methodology
The 2006 finalists
The World Mayor Award
Dora Bakoyannis congratulates John So

With Mayor of Amsterdam
With Mayor of Harrisburg
With Mayor of Melbourne
With Mayor of St Etienne

Mayor of Amsterdam
Mayor of Antananarivo
Mayor of Augsburg
Mayor of Denver
Mayor of Dubrovnik
Mayor of Harrisburg
Mayor of Makati City
Mayor of Melbourne
Mayor of St Etienne
Mayor of Valencia

On Mayor of Amsterdam
On Mayor of Antananarivo
On Mayor of Augsburg
On Mayor of Bangalore
On Mayor of Belo Horizonte
On Mayor of Denver
On Mayor of Dubrovnik
On Mayor of Harrisburg
On Mayor of Houston
On Mayor of Istanbul
On Mayor of Makati City
On Mayor of Melbourne
On Mayor of Mulhouse
On Mayor of New Orleans
On Mayor of New York
On Mayor of Phnom Penh
On Mayor of Sofia
On Mayor of St Etienne
On Mayor of Taipei
On Mayor of Toronto
On Mayor of Valencia (VE)

By Mayor of Amsterdam
By Mayor of Augsburg
By Mayor of Belo Horizonte
By Mayor of Dubrovnik
By Mayor of Makati City
By Mayor of Melbourne
By Mayor of Valencia

The 2005 results
Contest methodology
List of finalists
Winning mayors write
Mayor Rama writes - Mayor Bakoyannis replies

The 2004 contest
List of all 2004 finalists
Edi Rama wins 2004 award
People ask - Edi Rama replies

Front Page
Site Search
About City Mayors
John So
Lord Mayor of Melbourne, Australia
Melbourne's longest serving Lord Mayor John So can be viewed as a positive symbol of diversity in Australian public life. Re-elected in 2004, the affection shown for So in the Victoria state capital has even manifested itself in a tribute record, possibly the first city chief to enjoy 'cult status'. The city's first directly elected mayor is widely accredited with the successful staging of the 2006 Commonwealth Games and his assiduous efforts to promote the city abroad. In 2006 he was the winner of the annual World Mayor project.

Though having lived in the city for most of his life, So was in fact born and raised in the south of China (in 1946), before moving to Hong Kong. In his late teens he moved to Melbourne, where he has remained ever since. During this period in the 1960s, Australian society remained governed by the 'White Australia policy' pursued by successive governments (as recently as 1982), with So campaigning against this while at university. So qualified as a science teacher at the University of Melbourne with a diploma in education and science degree and taught physics at school level in the city for a short time. He then pursued a successful business career in the city's restaurant trade – Melbourne has one of the oldest Chinatown's in the world.

As Lord Mayor, So is assumed to be the figurehead for the greater Melbourne metropolitan area of the city and its surrounding 30 councils, though he only heads the smaller city council itself. As Melbourne's population constitutes three-quarters of the state of Victoria, most public services are carried out at state level, with local governments being mainly responsible for environmental and cultural services. The city is the most diverse in Australia and although Sydney has long held pre-eminence in business and cultural affairs, Melbourne is frequently held up as the more innovative and culturally diverse of the two. The city retains a strong manufacturing base through being the home of the country's automotive industry and largest sea port.

Before becoming Lord Mayor, So enjoyed a varied career in public service in the state, serving as its Ethnic Affairs Commissioner, as well as a number of civic society posts in the city itself. He was first elected to the city council in 1991 and was re-elected twice as a councillor before securing election in 2001 as the city's first directly elected Lord Mayor, beating Don Chipp, founder of the liberal Australian Democrats. So is noted for his popular touch and certainly commands high levels of support among ordinary Melburnians, if not the political establishment in the heavily Labor-leaning state. To some extent this is cultivated by walking to engagements and his highly visible presence as city chief, with many residents speaking warmly of his passion for leading the city, tireless efforts to promote it as a tourist destination and high profile campaigns on law and order. So has also been heavily personally identified with the 'That's Me!bourne' initiative to promote the city. In 2004, he and his slate of candidates to the city council were re-elected on a landslide, in spite of pundit predictions he would lose the race on account of opposition efforts. In addition to his popularity as an engaging mayor in a political system often beset by scandals and accusations of insularity from voters' concerns, So is also held up as an immigrant success story. Not many mayors can claim to have had a record made in their honour or a t-shirt emblazoning their name across residents' chests (the 'John So – he's our bro' garment, which was also the record's title).

As a mayor of Asian heritage in the strongly diverse city, So champions links with other Asian cities, emphasising sister city relations with Osaka, Japan and Tianjin, China and working within the Business Partner City Network of 12 global cities. Melbourne is Australia's second largest city and describes itself as the nation's cultural capital, though its prominence as a financial centre is undisputable. As such there is a longstanding rivalry with Sydney, Australia's largest city and de facto capital (though not seat of government or federal capital). It has been named the 'world's most liveable city' (by The Economist) three times in recent years – in 2002, 2004 and 2005, sharing the honour with Vancouver and Vienna. Melbourne City Council was accorded city status under Letters Patent by Queen Victoria in 1847, though in the British tradition its main offices and civic chamber remained styled a Town Hall even after elevation. In 1902, King Edward gave the city permission to style the office of mayor as Lord Mayor, hence the unusual title. In the UK, the title of Lord Mayor is purely ceremonial, though Australia's other main city figureheads retain the post. Until 2001, the Lord Mayor was appointed from among the members of the city council. John So is therefore Melbourne's first directly elected mayor, having failed to secure appointment as Lord Mayor by one vote in 1999. The Lord Mayor is supported by a Deputy Lord Mayor (currently Gary Singer) and seven city councillors.

Mayor So has been married twice and has four children, two of which work in financial services and two in higher education (law and medicine), all in Melbourne.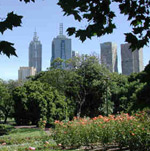 Melbourne is famous for its parks and gardens


Short history
of Melbourne
Melbourne was meticulously planned. It began as a barely legal, speculative settlement that broke away from New South Wales, and was fortunate to be blessed with far-sighted founders who envisioned a great 19th Century city with an abundance of parks and wide roads and boulevards.

Since Robert Hoddle laid out his grid in 1837, many buildings have been raised and razed within the original 'town reserve' bounded by Victoria Street, Hoddle Street and the Yarra River - but the streets and parks remain resolute.

Fitzroy Gardens and the refined residences of East Melbourne sit in the north-east corner. A few minutes to the north are the Carlton Gardens, the surrounding terrace houses of Carlton, the Victoriana of South Parkville, the vast open Royal Park, and the eclectic collection of buildings in the Melbourne University grounds.

There is much to love about Melbourne. Just ask the locals. This sophisticated world city in the south-east corner of mainland Australia inspires a deep passion in those lucky enough to live there. They love its vibrant energy, staggering choice of restaurants, funky boutiques, café-filled laneways, cool bars, unbeatable galleries, luscious parks and village-like inner suburbs, each with its own special character.

Melbourne, a relatively modern city less than 200 years old, never sits still. New futuristic designs add to the fascinating mix of architecture and ensure that the skyline is constantly changing. Melbourne is very much about lifestyle. It is no great surprise to residents that their city has been named in an international poll as the world's most liveable city.

Melburnians embrace three things in particular:
• Sport (Australian Rules football is almost a religion);
• Fashion (the look is chic with a dash of quirky); and
• Festivals (the calendar is packed year round).

They even embrace their notoriously changeable weather. A standing joke in Australia is that Melbourne can experience four seasons in a day. But, really, it's just another example of how they have it all.