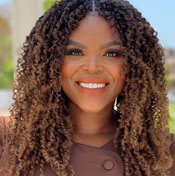 Aja Brown, Mayor of Compton, California, USA, since 2013
World Mayor Nominations 20/21

Aja Brown, Mayor of Compton, California, USA
The 20/21 World Mayor Prize and Commendations will be conferred on mayors who have been showing leadership during the Covid-19 pandemic and who are now aiming to make their cities more resilient economically, structurally, socially and environmentally. In fact:
Stronger | Fairer | Greener
. The organisers of the World Mayor Project are looking for mayors who have shown exceptional leadership skills but also, and more importantly, acted at all times with compassion towards those most affected by Covid-19. The pandemic has shown how vulnerable even the richest cities are when confronted with a disaster like Covid-19. Forward-looking city leaders will now begin to re-think how their communities can be better protected against future threats, both natural and man-made.
Aja Brown, Mayor of Compton, California, USA, was longlisted for the 20/21 World Mayor Prize.


---
FRONT PAGE
About World Mayor
City Mayors Foundation
Email



---
WORLD MAYOR 2021

- Questioning nominees
- Shortlist 2021
- Longlist 2021
- Selection criteria
- Covid-19
- World Mayor history
- World Mayor Prize
- Poverty
- Code of Ethics
- Press & Media
TESTIMONIALS
- Mayor of Amsterdam
- Mayor of Ankara
- Mayor of Arnhem
- Mayor of Bergamo
- Mayor of Bogotá
- Mayor of Braga
- Mayor of Bratislava
- Mayor of Buenos Aires
- Mayor of Carmignano
- Mayor of Cascais
- Mayor of Compton
- Mayor of Dantumadiel
- Mayor of Freetown
- Mayor of Grenoble
- Mayor of Grigny
- Mayor of Guarulhos
- Mayor of Kuala Lumpur
- Mayor of Mannheim
- Mayor of Mexico City
- Mayor of Milan
- Mayor of Raqqa
- Mayor of Rostock
- Mayor of Rotterdam
- Mayor of Saint-Omer
- Mayor of San Bellino
- Mayor of Villa del Conte
- Mayor of Warsaw
---
WORLD MAYOR 2018
WORLD MAYOR 2016
WORLD MAYOR 2014
WORLD MAYOR 2012
WORLD MAYOR 2010
WORLD MAYOR 2008
WORLD MAYOR 2006
WORLD MAYOR 2005
WORLD MAYOR 2004
Nominations for
Aja Brown
Mayor of Compton (USA)
Nominated by Dean M:
Mayor Aja Brown was elected at 31-years-old making her the youngest Compton mayor yet. She said, "Women provide a very organic and compassionate aspect to governance...the natural, innate qualities of women allow us to really focus on the needs of people and look at families first." She won on her basis of what she called a "New Vision for Compton." She launched a "12-Point Plan" designed to strategically advance the city of Compton. During Brown's tenure as a city employee, she recognized that the essential components needed to foster a healthy, thriving city were outdated or non-existent. Addressing existing problems on multiple fronts, including youth development, infrastructure, working with educational coalitions and economic development, she says she has made her "12-Point Plan" accessible for the residents to follow along with the city's progress.

In 2014, Brown began reaching out to Compton bloods and Crip gang leaders through former members to negotiate peace. She uses conflict mitigation instead of heavy policing. Since the gangs started regular meetings, violent activity and crime were reduced by about 65 percent compared to the all-time high some 25 years ago. She created jobs for gang members who agreed to quit their criminal ways.

In my humble opinion, she has handled COVID better than any mayor by far, as she has set up a universal basic income (UBI) for the significantly poorer. In a time like this, along with the technological advancements taking all our jobs, UBI is one of the best things society can do, otherwise those societies will not survive. Provided enough money for just the basics food, clothing, and shelter, you will see a dramatic reduction in all health care costs across the board, along with all mental illness across the board skydives as well. It has already been proven that it drives down health care and mental illness when they tried it throughout Manitoba in Canada's late '70s. The way she has transformed one of the most gang thriving cities in the world to taking the criminal out of the gang member and giving them a job instead of a jail sentence.

In the Black Lives Matter movement, Aja Brown should be the face of it. Many people who are in government have the opportunity to help! Change the world for the better. Most become corrupt, Aja Brown has and is changing the world.

Challenges for Compton: I would implement a Universal Basic Income (UBI) and or a Universal Basic Services (UBS) program. I would get rid of parking meters downtown in my city and replace empty business and office buildings with tech companies. Give tech companies huge incentives to live and work here, such as tax breaks, cheaper rent for the first 6 months, etc. Change prisons to Scandinavian approaches on rehabilitation.

Teach prisoners and people in drug and alcohol rehabilitation centers technology. Google right now offers a free 9-month course in coding. It carries the same weight as a 4-year computer programming degree. I would set up a 3-stage rehabilitation process that the 3rd stage is learning tech skills. At the same time, teaching all levels of schooling, the best tech the world has to offer, as tech will be the only available jobs in the future.

I would set up housing programs that treat the mental illness(s) that keep them on the streets, rehabilitate them in my three stage-process, get them in tech or a program like Russell Brand who gives recovering addicts a business. He gives them coffee shops to run. I would get Chromebooks in the classroom replaced with Macbooks, as Chromebooks are good but limit the tech kids could be learning. Macbooks are like a professional music and movie studio.