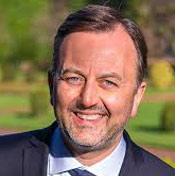 François Decoster, Mayor of Saint-Omer, France, since 2014
World Mayor Nominations 2021
François Decoster, Mayor of Saint-Omer, France
The 20/21 World Mayor Prize and Commendations will be conferred on mayors who have been showing leadership during the Covid-19 pandemic and who are now aiming to make their cities more resilient economically, structurally, socially and environmentally. In fact:
Stronger | Fairer | Greener
. The organisers of the World Mayor Project are looking for mayors who have shown exceptional leadership skills but also, and more importantly, acted at all times with compassion towards those most affected by Covid-19. The pandemic has shown how vulnerable even the richest cities are when confronted with a disaster like Covid-19. Forward-looking city leaders will now begin to re-think how their communities can be better protected against future threats, both natural and man-made.
François Decoster, Mayor of Saint-Omer, France, has been shortlisted for the 2021 World Mayor Prize.
You may wish to support him further and comment on his achievements and plans for his city.
---
FRONT PAGE
About World Mayor
City Mayors Foundation
Email



---
WORLD MAYOR 2021
- Voting for WM 2021
- Shortlist 2021
- Longlist 2021
- Selection criteria
- Covid-19
- World Mayor history
- World Mayor Prize
- Poverty
- Code of Ethics
- Press & Media
TESTIMONIALS
- Mayor of Amsterdam
- Mayor of Arnhem
- Mayor of Bergamo
- Mayor of Braga
- Mayor of Bratislava
- Mayor of Carmignano
- Mayor of Cascais
- Mayor of Compton
- Mayor of Dantumadiel
- Mayor of Freetown
- Mayor of Kuala Lumpur
- Mayor of Mannheim
- Mayor of Mexico City
- Mayor of Milan
- Mayor of Rotterdam
- Mayor of Saint-Omer
- Mayor of San Bellino
- Mayor of Villa del Conte
- Mayor of Warsaw
---
WORLD MAYOR 2018
WORLD MAYOR 2016
WORLD MAYOR 2014
WORLD MAYOR 2012
WORLD MAYOR 2010
WORLD MAYOR 2008
WORLD MAYOR 2006
WORLD MAYOR 2005
WORLD MAYOR 2004
Nominations for
François Decoster
Mayor of Saint-Omer (France)
Nominated by Dorian L., France:
I am writing to let you know that I fully support the nomination of François Decoster for your award.

I have known François for over 20 years as we studied together at the College of Europe in Bruges. I have been recently elected as an official in my town in France (800 km) but unfortunately in the minority.

I have been inspired by many actions François Decoster took in order to make the confinement period easier for his fellow inhabitants. I am referring to initiatives about distributing masks, making sure schooling was maintained and entrepreneurs given any necessary help.

I was inspired by some concise actions and hardly lobbied my fellow elected officials in my town. Unfortunately they were reluctant and kept claiming that it wasn't feasible. I used Saint-Omer as an example and invited them to check it out.

I therefore hugely recommend Mr. Decoster's nomination.


Nominated by Matthieu L, France:
Monsieur Decoster a depuis son élection en 2014 changé positivement et durablement la vie des Audomarois.

Porteur de projets ambitieux comme la réfection du centre ville, l'embellissement de la commune en luttant contre les incivilités, la redynamisation par la transformation du quartier de la gare, il n'oublie cependant pas de rester proche des Audomarois par le biais de ballades urbaines, de cafés du maire .... Le contexte sanitaire ne permettant pas cette proximité habituelle, il ne manque pas une occasion de rester proche de ses habitants via les réseaux sociaux notamment.

En tant que Conseiller Municipal d'une ville voisine de Saint-Omer, j'appuie pleinement sa candidature au poste de "meilleur maire"


Nominated by M. L. Saint-Omer:
I think François Decoster is the best mayor in the world. He was president of the CAPSO and added many bus lines. The bus colors are fantastic. He managed the covid19 crisis with ease and he was responsible. He didn't hesitate to make the mask obligatory in the Rue de Dunkerque, which was a great decision and limited the impact of covid19. He stopped the fair from happening which is great because less people were infected. He is the best mayor. Everyone knows him and likes him.


Nominated by L. Z., Saint-Omer:
Hi ! I Think François Decoster really is the best because he managed the Covid19 crisis very well and he was president of the CAPSO. He is very polite and always smiling. A lot of adults know him and my mom told me he's the best mayor ! Thanks for reading.


Nominated by Anne L., France:
François DECOSTER est un travailleur inlassable. Il apporte dynamisme créativité innovation et pragmatisme sur l'audomarois. Il sait créer les conditions d'accueil que mérite chaque touriste et habitant de st Omer. Il impulse une dynamique de partenariat entre les pays. Ses efforts associés aux partenaires avec qui il travaille contribuent au rayonnement de la région Hauts de France. Bravo à lui, ses equips.


Nominated by Danny de K., outside France:
Since 2012 I have been an Individual Member and Coordinator for Flanders. Since then I have also followed the ins and outs of the European section in both the European Parliament and the Committee of the Regions. I kept coming to the conclusion that Mr. Mayor François Decoster fulfills his duty as a representative of the people of Saint-Omer with dedication and a sense of responsibility. Even though I have Mr. Never met Decoster personally, the CoR reports prove very well that he is a person who knows what he is doing, so I would like to express my support and nominate him as the Best Mayor of the World.


Nominated by Jasna G., outside France:
Saint-Omer Mayor François Decoster is one of the mayors who sees beyond the borders of his city and his country. He works in the way of taking experiences on local level (bad and good) to the European level, trying to find solutions not just for his city but for all. He is good when it comes to solving crises. That's how he dealt with migrant crises and found a solutions how can city help to migrants and how to make it works within local community. And the same is now with Corona crises. He is always a great supporter in Committee of the Regions (EU) of green economy, environmental friendly politics. He is a politician who tries to find common solutions/ways between different political parties specially when it comes to main EU topics.


Nominated by Frederic F., outside France
It is with great pleasure that I would like to nominate François Decoster, Mayor of Saint-Omer, France, for the 20/21 World Mayor award.

François Decoster has been Mayor of Saint-Omer since 2014 and was convincingly re-elected in June of this year while fighting the COVID-19 pandemic, with 65% of the vote. During this pandemic he led by example in taking care for his citizens while managing all the day to day affairs, and under his leadership Saint-Omer is a stronger, fairer and greener city.

He made his city stronger providing his citizens with adequate information, help and care. During the pandemic he hosted, organized or oversaw several citizen initiatives. To ensure that citizens would be able to adapt to the confinement, he hosted Facebook live sessions during which citizens could ask questions, and repeated this exercise in light of the confinement.

He was also a Mayor for all his citizens, ensuring fairness by taking measures that helped all population groups. He crafted a plan to accompany businesses and help entrepreneurs in economic difficulty with the Emergency Fund, providing €400,000 for small business and the self-employed, with, among other measures, also scrapping the annual terrace tax for 2020.

He took the initiative to supply each and every one of his citizens ˆ even the ones which are not on the electoral rolls or aren't taken into account in the census - with a free face mask, announcing this in mid-April and delivering on this promise in May. To take care of the elderly, he put in place a service of food deliveries at home and had the most vulnerable called on a regular basis to see whether they needed any assistance. He also kept in place a food market during the pandemic as long as possible as a supply point, with strict security measures, to make necessities available during a period when regular shops were affected.

Also his municipal staff that helped out during the crisis were not forgotten: many, including those who were mobilized whole days and outside normal working hours to ensure continuity of services and help, were all awarded a bonus to show appreciation for their efforts under difficult circumstances. Working on an inclusive city he also supports young refugees, as his town was the only town in that region of France with a center for underage refugees, integrating them through sports such as cricket, to fight many preconceptions, as featured in the New York Times. He also works tirelessly to integrate his town and region with surrounding regions in other countries such as in Flanders, Belgium, signing cooperation agreements in terms of culture and employment.

In addition, to bring his city back in shape after this pandemic and ensure its bright future, he launched the local recovery plan or "Plan de Relance", showing energy and commitment to this cause, with an emphasis on three main objectives: ecological transition, digital developments and the upgrade of local heritage. As examples for this last field, Decoster was the driving force for the reopening after important renewal works of the authentic Italian theatre after having been unused for 45 years, and transforming the train station into "La Station", a co-working and innovative centre with a station in it, after it was closed in 2011 for security reasons, thereby giving it a successful second life.

Keeping his city Green also proved to be a challenge during the COVID-19 pandemic. Waste facilities were temporarily closed, trash collection via yellow bags were put to the disposal of people in shops. He also oversaw the creation of a forum of associations for a more ecological and inclusive transition by citizens for the actions already underway, while also carrying out energy audits for municipal buildings and measuring carbon impacts.

Finally, François Decoster also works and thinks as a real European, bringing people together. One of his ideas he launched as member of the European Committee of the Regions and which he spearheaded in his home region in France is that of having "European Correspondents", a network of volunteer correspondents who are all members of local municipal councils. They would bring Europe closer to the citizens and strengthen the links between the local level and the EU, integrating them more by disseminating correct and useful information about the European Union and making citizens aware of opportunities that could benefit them.

In conclusion, given all this, it is with admiration and utmost respect I put François Decoster up as potential World Mayor.