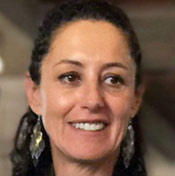 Claudia Sheinbaum, Mayor of Mexico City, Mexico, since 2018
World Mayor Nominations 20/21
Claudia Sheinbaum, Mayor of Mexico City, Mexico
The 20/21 World Mayor Prize and Commendations will be conferred on mayors who have been showing leadership during the Covid-19 pandemic and who are now aiming to make their cities more resilient economically, structurally, socially and environmentally. In fact:
Stronger | Fairer | Greener
. The organisers of the World Mayor Project are looking for mayors who have shown exceptional leadership skills but also, and more importantly, acted at all times with compassion towards those most affected by Covid-19. The pandemic has shown how vulnerable even the richest cities are when confronted with a disaster like Covid-19. Forward-looking city leaders will now begin to re-think how their communities can be better protected against future threats, both natural and man-made.
Claudia Sheinbaum, Mayor of Mexico City, Mexico, has been nominated for the 20/21 World Mayor Prize.
You may wish to support her further and comment on her achievements and plans for her city.
---
FRONT PAGE
About World Mayor
City Mayors Foundation
Email



---
WORLD MAYOR 20/21

-
NOMINATING and
- VOTING
- Longlist 20/21
- Selection criteria
- Covid-19
- World Mayor history
- World Mayor Prize
- Poverty
- Code of Ethics
TESTIMONIALS
- Mayor of Amsterdam
- Mayor of Arnhem
- Mayor of Bergamo
- Mayor of Braga
- Mayor of Bratislava
- Mayor of Carmignano
- Mayor of Cascais
- Mayor of Compton
- Mayor of Dantumadiel
- Mayor of Freetown
- Mayor of Kuala Lumpur
- Mayor of Mannheim
- Mayor of Mexico City
- Mayor of Milan
- Mayor of Rotterdam
- Mayor of Saint-Omer
- Mayor of San Bellino
- Mayor of Villa del Conte
- Mayor of Warsaw
---
WORLD MAYOR 2018
WORLD MAYOR 2016
WORLD MAYOR 2014
WORLD MAYOR 2012
WORLD MAYOR 2010
WORLD MAYOR 2008
WORLD MAYOR 2006
WORLD MAYOR 2005
WORLD MAYOR 2004
Nominations for
Claudia Sheinbaum
Mayor of Mexico City (Mexico)
Nominated by Norma V. L. Mexico:
Mrs. Claudia Sheinbaum has shown leadership and has always worked hard, and is very focused in making Mexico City a greener, more fair and strong city.

Early in 2020, Claudia's plan and commitment to fight climate change in the city was the GLOBAL WINNER for the prestigious WWF's One Planet City Challenge, won against more than 250 cities of 53 countries all around the world. WWF stated that Claudia's plans, actions and climate agenda were "extremely impressive, and one of the strongest globally" as you can see in the full statement provided below.

Also Claudia always fights for the rights of the poorest people and works with no rest for improving the quality of life in the city. She has the program of "rescue of the public spaces" which were abandoned by the previous city administrations, and she fights for the rights of women as well. She also fights against covid-19 frontally and strongly, with contract-tracing using QR codes everywhere in her city, and her administration has reduced crime in the city by almost 40%, that's really impressive.

She also led an increase in hospitals capacity of 38%, which really helps during covid-19 pandemic. This is more than a 2 thousand increase in beds for covid-19 patients, in only 28 days!

I think Claudia should win this competition because she deserves all the recognition for her work. We trust in Claudia Sheinbaum.


Nominated by Carlos V. V., Mexico City:
Mayor Claudia Sheinbaum, Ph.D., has done outstanding work in Mexico City, not only fighting corruption and insecurity (two big issues the city has been facing for a long time) but also tirelessly working to help the city overcome the COVID-19 pandemic, with the help of cutting-edge technology (c.f. C5 in CDMX) and an emphasis in human rights. A scientist herself (the only scientist-mayor Mexico has ever had, also the only PhD to ever govern in Mexico ¡AND a woman! Did I mention she is ALSO a Nobel Peace Prize laureate?) she works alongside the best scientists/experts to run the city in the best possible way.

She has also pushed for renewing public transportation and make it greener, bringing in a zero-emissions, electric bus system unique in Mexico. Further, she is close to completing her project of realizing a world-class network of cable car (aerial lift) transportation to improve transportation in a city where ground (and underground) transportation is no longer enough. This project is around 90% complete and she has made an effort to bring it first to the poorer areas that need it the most.

Under Claudia's watch, Mexico City truly IS an Innovative City of Human and Civil rights! I strongly encourage you to consider Mrs. Sheinbaum for the 20/21 World Mayor award, as she completely deserves it.