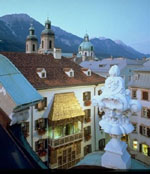 Innsbruck's Golden Roof (Goldenes Dachl) was added in 1499 to a house owned by Austrian Emperor Maximilian I to celebrate his second marriage to Bianca Maria Sforza of Milan.



FRONT PAGE
About us

The 2010 results
The 2010 project
The 2010 finalists
Code of Ethics
The World Mayor Prize
The 2008 results
The 2008 project
The 2008 finalists
The World Mayor Award

The 2006 results
Methodology
The 2006 finalists
The World Mayor Award

The 2005 results
Contest methodology
List of finalists
The World Mayor Award
Mayor Rama writes - Mayor Bakoyannis replies
Winners' comments

Mayor of Athens
Mayor of Guatemala City
Mayor of Mississauga
Mayor of San Fernando
Mayor of San Francisco

Mayor of Athens
Mayor of Guatemala City
Mayor of Mississauga
Mayor of San Fernando
Mayor of Vienna

Comments on finalists from The Americas
Comments on finalists from Europe
Comments on finalists from Asia, Australia and Africa
Comments on Addis Ababa
Comments on Antananariva
Comments on Athens
Comments on Atlanta
Comments on Belo Horizonte
Comments on Bonn
Comments on Guatemala City
Comments on Karachi
Comments on London
Comments on Melbourne
Comments on Mississauga
Comments on Rio de Janeiro
Comments on Rome
Comments on San Fernando
Comments on San Francisco
Comments on Toronto
Comments on Vancouver
Comments on Vienna

Mayor of Addis Ababa
Mayor of Antananarivo
Mayor of Athens
Mayor of Belo Horizonte
Mayor of Bonn
Mayor of Ekaterinburg
Mayor of Guatemala City
Mayor of Innsbruck
Mayor of Karachi
Mayor of Kiev
Mayor of Melbourne
Mayor of Mississauga
Mayor of Munich
Mayor of Rhodes
Mayor of Rome
Mayor of Tshwane
Mayor of Vienna

The 2004 contest
List of all 2004 finalists
Edi Rama wins 2004 award
People ask - Edi Rama replies
Why we voted for the Mayor of Tirana
Why we voted for the Mayor of Mexico City
History of Tirana

Front Page
Site Search
About City Mayors
Mayor Hilde Zach:
Innsbruck: European city in the Mountains
'High Mountains, terrific town', Innsbruck the thriving heart of the Alps. The 'City in the Mountains' – a peculiar yet unique location. Its beauty equally amazes the locals and the tourists. The combination of city and alpine environment, the immediate vicinity of urban settlement and unspoiled nature – Innsbruck fascinates and you can hardly compare it with other towns. Innsbruck is exceptional - and so are its 115,000 inhabitants: tough and hearty!

Commenting on Hilde Zach, Mayor of Innsbruck

All these tough and hearty people - the locals and I as the mayor - love this city but what is even more important, we do not hold back from honest criticism and we constantly strive to improve city life. We give our opinion on why we think something else is better in other cities: theatres in Vienna, cafés in Paris, shoe shops in Milan, restaurants in Brussels or clubs in London. One could say that Innsbruck has to enter a new competition each time a local returns from a journey. I am convinced that in many areas we bear comparison with our competitors. In fact, we can only profit from our location in the centre of Europe where innovations from other cities can be absorbed into Innsbruck's city policy.

Within a radius of only 500 km you find 'Central Europe at its best': Venice, Florence, Milan, Geneva, Zurich, Munich, Prague and Vienna. It is a great challenge for us that Innsbruck is referred to as more than just a European traffic hub, a mere connection between North and South, East and West. I want to strengthen Innsbruck's position within Europe and I want to preserve not only a liveable but also a most loveable city for its inhabitants.

The locals are proud of Innsbruck and they enjoy true quality of life in their hometown. But why is it that we have such a high quality of life?

Nature and Quality of Life
To 'think' and 'experience' Innsbruck, automatically implies to 'think' and 'experience' the mountains. We encounter this feeling in many areas: weather, climate, traffic, housing, architecture, leisure time, education, sports, culture and economy.

'Innsbruck = nature' and the relation to this nature is part of our city life. The municipal area of Innsbruck stretches from 600 to more than 2,200 m above sea level and the 130,000 inhabitants benefit from the natural landscape in various ways.

Nature contributes significantly to the wealth of the locals. More than five million day tourists visit the 'city in the mountains' each year and they truly enjoy its marvellous surroundings.

The beautiful location also influences the leisure behaviour of Innsbruck's people. Through the whole year the destination offers ideal conditions for various kinds of sport: jogging, mountain biking, hang gliding, swimming, skiing, cross-country skiing, climbing and many more. The skiing slopes of the Seegrube peak (1,950 m above sea level) are so close to the city centre, that you can use your lunch break for a short skiing trip.

With all the fascinating natural background it is very important to enhance the urban aspects of city life. We are a relatively small town but we offer all amenities of a city: theatres, cinemas, art galleries, shopping centres and cultural events.

Not only is the widely renowned Leopold-Franzens University a reason for students from other parts of Austria and from all over the world to come to Innsbruck, they particularly appreciate the combination of city and nature. 'To study, where others spend their holidays', is a popular slogan among the students. After they have finished their studies they often decide to settle down in Innsbruck and that, of course, is a source of great pleasure for me.

Regional and European
To 'think' European also means to be aware of your regional advantages and to communicate your ideas and concepts to others. My work as a representative of the Chamber of Local Authorities in the European Council gives me the chance to exchange experiences on the European level and I consider this to be a particularly interesting and challenging part of my work.

In 1964 Innsbruck was awarded the title 'European city' and since then the efforts to strengthen Innsbruck within Europe have continued. With the enlargement of the European Union, the role of local and regional governments is becoming more and more important and our city wants to be actively involved in the development of Europe. In 1997 the Province of Tyrol and the City of Innsbruck introduced the Emperor Maximilian Prize and since then it has been awarded once a year to politicians and experts for their outstanding achievements in the field of regional and local politics.

The 23rd General Assembly of the Council of European Municipalities and Regions will be held for the first time here in Austria in May, 2006, and as Mayor of Innsbruck I am very honoured that local and regional politicians from all over Europe will meet here to discuss the future of public services.

Architecture and the City
As far as city planning is concerned, the last years have seen a number of new developments and trends.

The city government and all political groups have put great emphasis on architecture, and the locals began to identify themselves with the new buildings and constructions. A number of visionary projects could be realised, for example, the main train station and the new Bergisel ski jump. The Innsbruck town hall, which has been enlarged and rebuilt, is an excellent example of how architecture and art can be included in public space. The world famous architects Dominique Perrault (town hall) and Zaha Hadid (Bergisel ski jump) have created and designed new 'landmarks' for the city and have made an important contribution to the cultural meaning and attractiveness of Innsbruck – for our citizens as well as for tourists.

When we talk about the nature of this city, its natural surrounding were taken fully into consideration when the projects of the past years were implemented. Some of the buildings are interventions in the historical town centre and structures of old buildings had to be included. The experts and architects, however, have also tried to introduce new ideas and at the same time they have actively promoted and underlined the nature of the city.

The vitality of a city is measured by the ability to react to changes. Jean Jaurès once said that maintaining tradition does not mean 'to save the ashes but to carry on the fire'. As Mayor of Innsbruck I see my part as carrying on this fire in our city.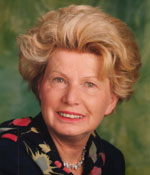 Innsbruck Mayor Hilde Zach

Introducing Hilde Zach, Mayor of Innsbruck
Professional career
Hilde Zach's business education was received at her parents' business. She was active in a managerial position there for 20 years and following that, self-employed in several branches over the course of 12 years (voluntary work in Germany, France and England); proprietor of a restaurant licence.

Honorary activities in economic and political areas (directed an art gallery and a "non profit"-art exhibitions house for women).

Founding member and still today an active member of the highly important organisation "Women in Business". (Activating women business entrepreneurs, women in executive positions, women beginning to work again and young women whose confidence and interest in politics should be awakened).

Positions
2003: Elected as member of the board of the Austrian Association of Cities (Österreichischer Städtebund)
Since 2000: Council member of Innsbruck City Marketing Company
1999 –2000: Supervisory Board member of the "Inn-Bus Company"
Since 1999: President of the association "Tyrolean Evening School" (re-elected as city representative in 2000)
1997 – 2000: Member of Supervisory Board of Innsbruck City Marketing Company
1997: Confirmation as president of the district 'Innsbruck city' of the Tyrolean Chamber of Economy
Since 1996: Chairman of Supervisory Board of Congress Innsbruck GmbH
Since 1995: City representative in the "Working Group Innsbruck and Surroundings Cooperation" and the "Contact Committee of the Working Group Innsbruck and Surroundings Cooperation" (confirmed in this position on 5.7.2000)
1995: Re-elected as member of the "Theatre Association of Austrian States and Cities"
1994: Member of the board of association "Tyrol Evening School"
Since 1994: Member of the "School Music Committee" (on 31.3.1999 and 5.7.2000 confirmed in this position)
Since 1994: Chairwoman of the association "Innsbruck Summer Plays"
Since 1994: Chairwoman of the "Committee of Master Concerts"
1992: Second election to president of the district "Innsbruck city" of the Tyrolean Chamber of Economy
1991: First election to president of the district "Innsbruck city" of the Tyrolean Chamber of Economy (First woman in this position)
1990: Election to president of the district group "City Centre" of the Tyrolean Chamber of Economy

Political career
2002: Following former mayor and now new governor of the Tyrol, Dr. Herwig van Staa, elected by the city council to the first female mayor of Innsbruck (First time in Austria, that a woman reached this position) with the responsibilities "finance", "staff" and "culture", office of the first deputy mayor handed on to Mag. Dr. Michael Bielowski.
2001: Election to chairwoman of the city council faction "Für Innsbruck" (For Innsbruck)
2000: City Council elections: Elected to first deputy mayor with responsibilities for "culture" (covers following areas: cultural concepts and events, city Music School, Symphony Orchestra, City Library, City Archives, Art Subsidies) and "child raising, education and society" (covers following areas: School, Kindergarden and Child Centre Administration, district school matters, women's furthering, families and seniors, children and youth furthering).
As of 2000: Member of city committees for: Finances and Subsidies; Economy, Sport and Tourism.
As of 2000: Substitute member in City Building and Project Committee
1994-2000: Member of city committees: Building committee, Project Committee, Seniors Committee, Sports Committee
1994-2000: Substitute member of city committees: Finance Committee, Environment and Agriculture Committee
1994: Election to city councillor for Art and Culture, Business and Tourism, Youth, Women and Family, Statistics

Newly appointed as member in following committees on 5.7.2000:
1. District Commission for zoning Innsbruck-City
2. HTL, Anichstraße, Curatorium for Institute of Higher Education in Innsbruck, Anichstraße
3. HTL, Trenkwalderstraße, Curatorium for Institute of Higher Education in Innsbruck, Trenkwalderstraße
4. State Memorial Foundation, Curatorium of the State Memorial Foundation
5. State Tourism Counsellor
6. Theatre Committee
7. Tyrolean Folks Museum, Ferdinandeum, Administrative Committee
8.Tourist Association, Supervisory Committee of Tourist Association Innsbruck-Igls and surroundings (decision of City Council on 18.5.2000)
9. Association for the Creation of Higher Technical Studies in Tyrol
10. University Funds, Curatorium of Innsbruck University Funds