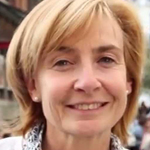 Françoise Schepmans, Mayor of Molenbeek, Belgium, since 2012

WORLD MAYOR 2018

Dedicated to women mayors
The 2018 World Mayor Prize and Commendations will be conferred on women mayors who have made outstanding and long-lasting contributions to their communities. The organisers wish to show what outstanding women mayors achieve all over the world. By doing so, they hope to encourage more women to contemplate a career in local government and run for political office. The women, who will be awarded the 2018 World Mayor Prize and other honours, will be role models for young women and, indeed, men everywhere. Qualities sought ||| Françoise Schepmans, Mayor of Molenbeek, Belgium, has been longlisted for the 2018 World Mayor Prize. ||| Vote for Mayor Schepmans |||
---
FRONT PAGE
About World Mayor
City Mayors Foundation
Email


---
WORLD MAYOR 2018
• Nomination Form

• Longlist 2018
• Raison d'être
• World Mayor history
• World Mayor Prize
• Code of Ethics
• Criteria
• Meet the Press
TESTIMONIALS
• Mayor of Alphen / Rijn
• Mayor of Baden-Baden
• Mayor of Calais
• Mayor of Chemnitz
• Mayor of Cozumel
• Mayor of Doncaster
• Mayor of Fort Worth
• Mayor of Grand Rapids
• Mayor of Lille
• Mayor of Molenbeek
• Mayor of Narayanganj
• Mayor of Omaha
• Mayor of Paris
• Mayor of Rennes
• Mayor of Reutlingen
• Mayor of San Juan
• Mayor of Trbovlje
---
WORLD MAYOR 2016
WORLD MAYOR 2014
WORLD MAYOR 2012
WORLD MAYOR 2010
WORLD MAYOR 2008
WORLD MAYOR 2006
WORLD MAYOR 2005
WORLD MAYOR 2004

Nominations for
Françoise Schepmans
Mayor of Molenbeek (Belgium)
Nominated by Claas v H, Belgium:
Françoise Schepmans has one of the toughest jobs in Belgium. The reputation of Molenbeek suffered badly after the terrorist attacks in Paris in 2015. Two of the Mayor's main tasks are to provide a safe environment for all residents of Molenbeek, part of Greater Brussels, and prevent the radicalisation of young Muslim men. She also wants to work with the families of Muslim men who have been attracted by messages of violence. Even though the number of police officers has been increased and three special anti-radicalisation agents appointed, the mayor, while optimistic, calls for sustained vigilance.


Nominated by Jan De C., Molenbeek:
Mayor Françoise Schepmans managed to break a 30 years odd majority by creating an tiny alternative majority which held. She has an inclusive approach whilst naming things/problems and she managed the aftermath of the Paris and Brussels terrorist attacks (the terrorists came from Molenbeek) with calm and dignity.
Challenges for Molenbeek: F.i. the image of Molenbeek as the 'hell hole of Europe' was turned into something that can slowly be called a hip borrough. This was done through cultural and start up initiatives.


Nominated by Théophile T., Molenbeek:
Une femme de conviction, une bourgmestre qui rassemble et respecte toutes les communautés. Françoise donne le meilleur d'elle-même pour un avenir radieux de son emblématique commune ou elle vit depuis sa naissance...Respect et merci à elle...
Challenges for Molenbeek: Notre Bourgmestre a du assumé les événements tragiques de Paris et du 22 mars 2016 de Bruxelles et Zaventem, car certains terroristes étaient liés à la commune de Molenbeek-Saint-Jean...


Nominated by Christine S., Molenbeek:
Elle est à l'écoute du citoyens et trouve des solutions , elle est fière de sa commune
Challenges for Molenbeek: Redonner une image positif de Molenbeeck Saint Jean a travers le monde !!!!!


Nominated by Eeman, Molenbeek:
Une femme qui gère une commune difficile et compliqué


Nominated by Marc Van G., Molenbeek:
She gives hope to the population after black years


Nominated by Suzanne O., Molenbeek:
Mayor Schepmans' tasks:
1. Day after Day, clever fight against terrorism and radicalism.
2. She makes the streets more secure and cleaner.
3. She works with the inhabitants to provide more respect, comprehensive behaviors.
4. She opens more schools. There are now a lot of cultural activities for everybody.
Challenges: Eradicate radicalism
Solutions: Meet and talk to young people in schools, clubs and associations


Nominated by Henri C., Molenbeek:
Madame Schepmans a tout mis en oeuvre pour redresser 'image de sa commune ... et elle y parvient malgré les énormes difficultés rencontrées.


Nominated by Thierry V., Belgium:
Outstanding actions for the promotion of Molenbeek after the Paris and Brussels terrorist attacks.
Challenges for Molenbeek: the majority of the population is poor and from foreign origin, as such a fertile ground for extremism and Islamisation. The Mayor wants to promote better integration and understanding between communities


Nominated Marie S., Belgium:
Mayor Shepmans is very honest and courageous. She made a very good job in a not easy city.
Challenges for Molenbeek: She made her city more secure (cameras in the street), cleaner. She works against radicalism being near young people with help of educator and animator in the street. Sorry for my English


Nominated by Simon d A., Belgium:
Mrs Schepmans is doing an amazing job to rebuild the image of Molenbeek after the terrorist attack, bringing all the communities together.


Nominated by Sabine S., Belgium
Il lived in the Molenbeek before she was elected an a short period of time after the election. When I return to Molenbeek now, I note the positive changes she brought to the city. Molenbeek is cleaner and safer; she supports artistic projects the city and citizens are proud of; with the support like molen-geek, she gave hope to young people.


Nominated by Ibo, Molenbeek
Electors of Molenbeek were fed up with the Socialist Party (PS) and former mayor (Philippe Moureaux - PS). For a lot of people in Belgium, Moureaux (PS) is responsible for the attacks in Paris and Brussels because the attackers were raised in Molenbeek. Also on his policies based on nepotism, favouritism and hypocrisy. They wanted him to leave. Today people living in Molenbeek are happier and satisfied with the changes brought by Schepmans since PS is in the opposition


Nominated by Antoine T., Belgium:
Commune difficile pour une femme de poigne
Challenges: Faire face à des difficultés d'ordre terroriste avec succès


Nominated by Nadine v R., Belgium:
Molenbeek is a very difficult city and Françoise tries to give a better image of this.