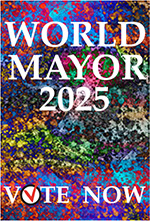 WORLD MAYOR 2018

Essays by World Mayor finalists
In a series of personal essays, the finalists for the 2018 World Mayor Prize describe the reasons that motivated them to enter politics, the challenges they face as mayors and how they envisage their towns and cities to develop and prosper in the future. They stress the importance of women in politics and urge young women always to aim high.

In her essay, Anne Hidalgo, Mayor of Paris, France since 2014, writes that large cities are particularly exposed to the challenges of the 21st century. She lists global warming, migratory crises, an increase in inequalities and terrorism. But the Mayor also says that cities that are faced with challenges will find the best solutions to respond. Paris, she writes, has two priorities: Ecological transition and the fight against inequalities, be they economic, social, regional.

Paris, as a global city, Mayor Hidalgo stresses, must remain accessible to everyone, regardless of their background or income. "We have built 100,000 social housing unit since 2001 and fighting for the right to limit rent increases in the private sector. We have opened the doors of Paris's City Hall to homeless women, the most vulnerable amongst the vulnerable."
---
FRONT PAGE
About World Mayor
City Mayors Foundation
Email



---

WORLD MAYOR 2018
• Results 2018
• Project 2018
• Shortlist 2018
• Longlist 2018
• Raison d'être
• World Mayor history
• World Mayor Prize
• Code of Ethics
• Criteria
• Meet the Press

INTERVIEWS WITH
• Mayor of Ancona
• Mayor of Doncaster
• Mayor of Rennes
• Mayor of Zamboanga

ESSAYS BY
• Mayor of Ancona
• Mayor of Cologne
• Mayor of Doncaster
• Mayor of Fort Worth
• Mayor of Lille
• Mayor of Paris
• Mayor of Rennes
• Mayor of Saarbrücken
• Mayor of Trbovlje
• Mayor of Tunis
• Mayor of Zamboanga

TESTIMONIALS
• Mayor of Alphen / Rijn
• Mayor of Ancona
• Mayor of Baden-Baden
• Mayor of Calais
• Mayor of Chemnitz
• Mayor of Cologne
• Mayor of Cozumel
• Mayor of Doncaster
• Mayor of Fort Worth
• Mayor of Grand Rapids
• Mayor of Lille
• Mayor of Lodz
• Mayor of Molenbeek
• Mayor of Narayanganj
• Mayor of Oakland
• Mayor of Omaha
• Mayor of Paris
• Mayor of Rennes
• Mayor of Reutlingen
• Mayor of Saarbrücken
• Mayor of San Juan
• Mayor of Trbovlje
• Mayor of Tunis
• Mayor of Zamboanga
• Mayor of Zurich

PROFILES OF
• Mayor of Ancona
• Mayor of Cologne
• Mayor of Doncaster
• Mayor of Fort Worth
• Mayor of Lille
• Mayor of Paris
• Mayor of Rennes
• Mayor of Saarbrücken
• Mayor of Trbovlje
• Mayor of Tunis
• Mayor of Zamboanga


---
WORLD MAYOR 2016
WORLD MAYOR 2014
WORLD MAYOR 2012
WORLD MAYOR 2010
WORLD MAYOR 2008
WORLD MAYOR 2006
WORLD MAYOR 2005
WORLD MAYOR 2004
Essay by Anne Hidalgo
Mayor of Paris, France
Born in Spain, I was only 2 years old when my family moved to Lyon, France where I grew up. It was later that I discovered Paris and fell in love with this city. Paris has always been faithful to its reputation, that of an open and welcoming city, rich in its diversity, the city of freedom and possibilities. I owe my journey to this city and, for this reason, my commitment is absolute when it comes to protecting Paris and those who enliven it, making it possible for everyone, no matter where they come from, to find their place and flourish here.

Between now and 2050, 2/3 of the world's population will live in cities. Large cities are exposed, with particular intensity, to the challenges of the 21st century, which, when combined together, create an unprecedented situation: global warming, migratory crises, metropolization and the concentration of wealth, an increase in inequalities, terrorism.

I am convinced that if cities amass challenges, they also produce the best solutions in order to respond to them: through their agility, pragmatism, as well as their vision and proximity with inhabitants, they represent the most relevant scale for setting up innovative measures and inventing the future.

In Paris, we have two priorities: on the one hand, ecological transition, which has become necessary due to the climatic emergency and one that we see as an opportunity to deeply transform ourselves, find meaning once again and live better lives; while on the other hand, the development of community spirit in order to fight against inequalities – economic, social, regional. Ever since my first job, as a health and safety inspector, I have been keenly sensitive to the imbalances that weaken the social fabric.

These two challenges are closely connected. When we develop local and organic food in school cafeterias, we are making it possible for students to eat better regardless of their parents' income. When we fight against air pollution, people with fragile health are the first to benefit. When we renovate 30,000 social accommodations in order to reduce their carbon footprint and we promise that all new buildings will be energy positive, it is the renters' charges that are reduced.

In order to see this dual transition through, we have a compass: making sure that Paris, a global city, remains accessible to everyone, regardless of their background, income, family composition. That is why we have made housing a priority: since 2001 we have built 100,000 social accommodations, which has made it possible for 500,000 Parisians to house themselves while still paying moderate rent. And we are fighting for the right to limit rent increases in the private sector. That is also why we have turned the fight against exclusion into this term of office's major cause– it is under this framework that we have opened the doors of Paris's City Hall to homeless women, the most vulnerable amongst the vulnerable, and we continue to identify sites throughout the City where temporary housing centers can be opened.

In all fields, we have a method: promoting new forms of cooperation between institutional and community stakeholders, researchers, companies, as well as, and above all, sharing power amongst inhabitants.

Through the different local democratic experiences that we have set up (participatory budget, climate volunteers, citizen conferences, etc.), we are no longer satisfied with just giving citizens spaces to express themselves: now we give them the means to decide and execute.

From this term of office with which Parisians have entrusted me, I have learned a lesson: we must systematically invite citizens to the negotiation table when faced with lobbies. That is how Paris has just won, along with the cities of Brussels and Madrid, a historical victory by reversing the "environmental permits" that the industrial lobbies had negotiated with the European Commission – this is a victory not only for the health of our citizens, but one for democracy as well.