FRONT PAGE
About World Mayor
City Mayors Foundation
Email



---

WORLD MAYOR 2018
• Results 2018
• Project 2018
• Shortlist 2018
• Longlist 2018
• Raison d'être
• World Mayor history
• World Mayor Prize
• Code of Ethics
• Criteria
• Meet the Press

INTERVIEWS WITH
• Mayor of Ancona
• Mayor of Doncaster
• Mayor of Rennes
• Mayor of Zamboanga

ESSAYS BY
• Mayor of Ancona
• Mayor of Cologne
• Mayor of Doncaster
• Mayor of Fort Worth
• Mayor of Lille
• Mayor of Paris
• Mayor of Rennes
• Mayor of Saarbrücken
• Mayor of Trbovlje
• Mayor of Tunis
• Mayor of Zamboanga

TESTIMONIALS
• Mayor of Alphen / Rijn
• Mayor of Ancona
• Mayor of Baden-Baden
• Mayor of Calais
• Mayor of Chemnitz
• Mayor of Cologne
• Mayor of Cozumel
• Mayor of Doncaster
• Mayor of Fort Worth
• Mayor of Grand Rapids
• Mayor of Lille
• Mayor of Lodz
• Mayor of Molenbeek
• Mayor of Narayanganj
• Mayor of Oakland
• Mayor of Omaha
• Mayor of Paris
• Mayor of Rennes
• Mayor of Reutlingen
• Mayor of Saarbrücken
• Mayor of San Juan
• Mayor of Trbovlje
• Mayor of Tunis
• Mayor of Zamboanga
• Mayor of Zurich

PROFILES OF
• Mayor of Ancona
• Mayor of Cologne
• Mayor of Doncaster
• Mayor of Fort Worth
• Mayor of Lille
• Mayor of Paris
• Mayor of Rennes
• Mayor of Saarbrücken
• Mayor of Trbovlje
• Mayor of Tunis
• Mayor of Zamboanga


---
WORLD MAYOR 2016
WORLD MAYOR 2014
WORLD MAYOR 2012
WORLD MAYOR 2010
WORLD MAYOR 2008
WORLD MAYOR 2006
WORLD MAYOR 2005
WORLD MAYOR 2004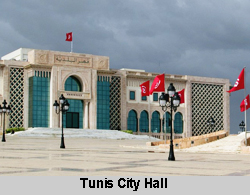 Essay by Souad Abderrahim
Mayor of Tunis, Tunisia
On 14 January 2019, we celebrate the eighth anniversary of our Revolution. For more than a century Tunisia has experienced colonization and dictatorship. Generations had been accustomed to what the "other" thinks for them. On 14 January 2011, Tunisia reconnected with democratic modernity, a modernity that made Tunis a landmark in the history of the Mediterranean region. We shall not forget that it is here, a few centuries ago, where the wind of modernity blew on the southern shore of the Mediterranean.

It is here, where Ahmed Bey forbade slavery in 1841, then promulgated the decree of emancipation in January 1846! It was here, around the Zitouna University, where a poet and a researcher who probed in all disciplines the truth of his faith, Mahmoud Kabadou, was recognized as an encyclopedist! He formed the champions of Reformism in the mid-19th century, the future generals of the School of Bardo and the future great sheikhs and laureates of Sadiki College or Khaldounia. It was in Tunis where people took refuge, such as; the Andalusians of the 17th century, the Sephardim attracted by this victory, which is a reign of peace and freedom!

But, if a revolution marks a departure, it is up to us, the elect of the people, to tame the time, the impatience, the fury of all those who have suffered due to the memory of their friends, their father, their mother, their sister who struggled to be able to express their difference. It was a part of my work as an elected member of the Constituent Assembly to reassure, calm down, but more importantly, liberate the energies. I mean by enabling the civil society to play a prominent role in the establishment of the new Republic.

If we are all committed, as I am, to participatory governance, to the will to act, to build the territories of tomorrow together; the empowerment of cities. Local democracy was the missing link in our institutional system. In this context and for the first time in my country's history, free, transparent and democratic municipal elections were held on 6 May 2018. These elections allowed me, on 3 July, to reach the position of Mayor of the Capital and to become the first Tunisian woman to access it thanks to the choice of men and women of Tunis who wanted to stand back from narrow political considerations or propaganda. We have thus broken a harmful custom reserving this position for decades to men and especially those from notable families!

This election will therefore remain a beautiful and perfect departure in the history of the Arab world. This moment embodies both an expression of confidence in women's governance and a willingness to change established customs. Women have proven that they are more concrete, humbler, more open to dialogue and openness. They embody the hope of a better political world, free from the shortcomings attributed to the traditional political world.

It has been noted here and elsewhere that the political speech of women shows a real added value which has encouraged local voters from a conservative African, Arab, and Muslim society to opt for the choice of a female mayor, at the head of the Municipality of the capital, to see their aspirations come true.

Tunis is a millennial city, a city that is fortunate enough to have a history that has marked the history of the world. It is a capital city. Wherever I go, I see the affection, the interest that they show for us and the hope we arouse. We are asked as a model by the cities that wish to identify with our approach. An approach marked by the development and reinforcement of achievements. This is reflected by the dynamism introduced thanks to the new elected council with a remarkable participation of women, young people and disabled people. This new approach, taking into account criteria of gender, age and specific need, indicates that Tunis, like other Tunisian cities, has adopted values that confirm the special place of Tunisia in the world.

Thus, among the 60 members of the city council of Tunis, five are in their twenties and 15 in their thirties. That is, one-third of municipal councilors are people who have not been deeply marked by dictatorship and its way of thinking or acting. In this respect, the Assistant to the Municipal Council Office, is the youngest adviser since she is only 24 years old. The horizontal and vertical parity, required by the legislator, has meant that 50 per cent of the members of the Council are women who are strongly present in the decision-making structures since 13 Municipal Commissions out of a total of twenty are chaired by women. Similarly, four women chair district councils.

Each of us, from her/his position, woman or man, makes sure to meet the expectations of the citizens by listening to them so that they feel more involved in the local life, in the definition, the implementation and the evaluation of local public policies.

In order to meet the expectations of the world, so that everyone sympathizes with the international awareness of environmental risks, we shall explain, with the practicality that characterizes our approach, that local authorities have a prominent role with regards to the societal challenges that shape our era, not only because they are knowledgeable about their territory, but also because we, mayors, perform the noble function of bringing together our fellow citizens around a common program, a constructive speech related to all the actors of the city.

So, we build together this political vision and translate it into action on the ground, that are closer to the people who gave us their trust. It is our job to develop a common vision for our territories, a contemporary identity, an identity that takes into account the problems that affect life in the city such as climate change or migration.

This common quest, developed with civil society, through exchange meetings or interactive presentations, allows us to give our territories a positive image of responsibility, with the implementation of innovative, attractive and radiant strategies.

We are determined to build a modern and balanced solidarity. That is to say, a solidarity that is concerned with the social equilibrium that structures our cities by building an alliance that respects our diversity, improves living conditions, and which is concerned with a better coexistence.

This means having a clear awareness that the questions of training, environment, development, innovation, imposes more solidarity, but with the mobilization of other means of the humanity that does not involve competing against one another. I think empathy helps us to overcome, together, the consequences of shocks of our world. I also think of benevolence, a feature of Tunisian society that has been too long forgotten.

I intend to establish this new mode of government as a female Mayor. I am aware that I am not the only one promoting these values based on listening, dialogue, support, partnership and mutual benefits. I do not mean that there is a feminine scheme of governance! But, it is clear that we, women, are less likely to be in charge. We are therefore more visible because we are in small numbers and this situation makes us responsible towards voters. It imposes vigilance, listening, and empathy. We are in charge of the gender dimension of governance. A challenge that we intend to meet brilliantly. But, this should not discourage us.

Women must dare to be in a leadership position. In my country, they are present at all levels. They have proved their competence and they have largely deserved the rights they have won throughout the different generations. I am convinced that they are very capable today of positioning themselves as leaders and of overcoming the challenges.

It is certain that our environment, made of successive crises, acute social crises, concerns about the planet, compels us to establish innovative approaches in the practice of power to respond to this crisis and digital transformation. But, we shall be confident about our skills!

The processes of contemporary transformations are distinguished by dynamics that generate profound changes in people, institutions, cultures, spaces, and cities overall. These processes encourage us to look for alternatives to reshape an ordinary life of tranquility. It is about forging an innovative vision able to provide different choices and interpret the world differently while influencing cities in a qualitative way. In this context, I dream of Tunis as a unique city, whose singularity does not come from innovation, nor from the extension or the heritage or strategic character. But, it comes from its ability to generate significant changes in people, institutions, organizations and society. I want this singularity to be distinguished by the creativity that changes people's view of their immediate environment and the resources provided to develop the city.

I believe in the importance of the means available to the city to mobilize collective intelligence through the diversity and the proximity of the inhabitants. This collective intelligence is more than effective as it ensures abundant fruitfulness and unbelievable development.

I am aware of my role as Mayor to initiate political and societal changes by harmonizing the essential authority of the elected representatives who ensure the overall coherence and the collective intelligence through the civil society which can nourish the future vision and give concrete and relevant tracks. This role is crucial to accomplish our mission, especially in the presence of modest financial and human resources. The challenge remains to protect the different equilibriums essential for a harmonious development with, by and for the citizen.

Tunis, which I dream of, is not this city that consumes new technologies, nor the one behind new concepts and global innovations to succeed in a traditional marketing operation. Tunis I see is the intelligent, global and inclusive city that brings new tools and approaches in order to improve the quality of life of its inhabitants and its visitors. It is the city that promotes employment, revitalizes institutions, promotes the exercise of democracy and coexistence, defends its specificities while being proud of its differences. To do so, it shall forge her new image and develop it around and with the citizen.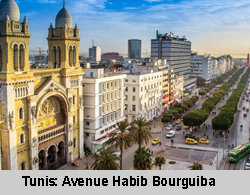 Essai de Souad Abderrahim,
Maire de Tunis, Tunisie
Le 14 janvier 2018, nous fêterons le huitième anniversaire de notre Révolution. Pendant plus d'un siècle la Tunisie a connu colonisation et dictature. Des générations habituées à ce que l'« autre » pense pour elles. Le 14 janvier 2011, la Tunisie a renoué avec la modernité démocratique, cette modernité qui a fait de Tunis un jalon dans l'histoire du Monde méditerranéen. N'oublions pas que c'est ici, il y a quelques siècles, qu'a soufflé le vent de la modernité sur la rive Sud de la Méditerranée.

C'est ici, qu'en 1841, Ahmed Bey, a interdit l'esclavage, puis promulgué, en janvier 1846, le décret d'affranchissement ! C'est ici, autour de l'université Zitouna qu'un poète, un chercheur, qui sondait dans toutes les disciplines la vérité de sa foi, Mahmoud Kabadou, a été reconnu comme un encyclopédiste ! Il forma les champions du réformisme dès le milieu du 19ème siècle, les futurs généraux de l'école du Bardo et les futurs grands cheikhs lauréats du collège Sadiki ou de la Khaldounia. C'est à Tunis que l'on venait se réfugier. Les Andalous du 17ème siècle, les Sépharades attirés par cette victoire, qu'est un règne de Paix et de Liberté !

Mais si une Révolution est la marque d'une rupture, il nous appartient, à nous les élus du peuple, d'apprivoiser le temps, l'impatience, la fureur de toutes celles et tous ceux qui ont souffert au nom de la mémoire de leurs amis, de leur père de leur mère de leur sœur qui ont lutté pour pouvoir exprimer leur différence. Ce fut une partie de mon travail en qualité d'élue à l'Assemblée Constituante. Rassurer, calmer, mais surtout, libérer les énergies. Je veux dire par là permettre à la Société Civile de pouvoir jouer un rôle éminent dans la construction de la République nouvelle.

Et si l'on est attaché, comme je le suis, à la gouvernance participative, à la volonté de faire, de construire ensemble les territoires de demain ; l'autonomisation des villes, la démocratie locale étaient le chainon manquant de notre dispositif institutionnel.

C'est dans ce contexte que pour la première fois dans l'histoire de mon pays, se sont tenues, le 6 mai 2018, des élections municipales libres, transparentes et démocratiques. Ces élections m'ont permis, le 3 juillet 2018, d'accéder au poste de Maire de la Capitale pour devenir ainsi la première femme tunisienne à y accéder grâce au choix des tunisoises et des tunisois qui ont eu la volonté de se dégager des considérations étroitement politiques ou de propagande. Nous avons ainsi brisé une coutume néfaste réservant ce poste depuis des décennies aux hommes notamment ceux issus de familles de notables !

Cette élection restera donc dans l'Histoire du Monde Arabe comme une belle et exemplaire rupture. Ce moment incarne à la fois l'expression d'une confiance envers la gouvernance féminine et une volonté de changer les coutumes établies. Les femmes ayant prouvées qu'elles sont plus concrètes, plus modestes, plus aptes au dialogue et à l'ouverture, elles incarnent l'espérance d'un monde politique meilleur, débarrassé des lacunes qu'on attribue au monde politique traditionnel.

Il a été constaté ici et ailleurs qu'il ressort de la parole des femmes politique une vraie valeur ajoutée ce qui a encouragé les électeurs locaux issus d'une société conservatrice africaine, arabe, musulmane à opter pour le choix d'une Maire femme, à la tête de la Municipalité de la capitale, afin de voir leurs aspirations se réaliser.

Tunis est une ville millénaire, une ville qui a la chance d'avoir une histoire qui a marqué l'Histoire du Monde, elle est une ville capitale. Partout où je vais, je constate l'affection, l'intérêt que l'on nous porte et l'espoir que nous suscitons. Car nous sommes sollicités comme modèle par les villes qui rêvent de s'identifier à notre démarche. Une démarche marquée par l'épanouissement et le renforcement des acquis. La preuve en est avec ce dynamisme introduit grâce au nouveau conseil élu avec une participation remarquée de femmes, de jeunes et de personnes handicapées. Cette nouvelle approche, prenant en compte des critères de genre, d'âge et de besoin spécifique, indique que Tunis, comme les autres villes tunisiennes d'ailleurs, s'est appropriée des valeurs qui confirment la place particulière de la Tunisie dans le monde.

Ainsi parmi les 60 membres du conseil municipal de la ville de Tunis, 5 sont âgés d'une vingtaine d'années et 15 d'une trentaine d'années, donc le tiers des conseilles municipaux sont des personnes qui n'ont pas été profondément marquées par la dictature et sa manière de penser ou d'agir. A cet égard, l'Adjointe au Bureau du Conseil Municipal, est la plus jeune conseillère puisqu'elle n'a que 24 ans. La parité horizontale et verticale, exigée par le législateur, a fait que 50% des membres du Conseil sont des femmes qui sont fortement présentes dans les structures de prise de décision puisque 13 Commissions municipales sur un total de vingt sont présidées par des femmes. De même, quatre femmes président des mairies d'arrondissement.

Chacun de nous, à partir de sa position, femme ou homme, veille à répondre aux attentes des citoyens en étant à leur écoute afin qu'ils se sentent plus impliqués dans la vie locale, dans la définition, la mise en œuvre et l'évaluation des politiques publiques locales.

Afin de répondre aux attentes du Monde, afin que chacun se sente solidaire de la prise de conscience internationale des risques environnementaux, nous devons expliquer dans le grand mouvement de libération qui caractérise notre démarche que les collectivités locales ont une place éminente face aux enjeux sociétaux qui structurent notre époque. Parce qu'elles ont la connaissance de leur territoire. Mais aussi parce que nous, les Maires, avons la belle fonction de rassembler nos concitoyens autour d'un programme commun, un discours construit en lien avec tous les acteurs de la ville.

Alors, ensemble, nous construisons cette vision politique avec sa traduction dans des actions de terrain, au plus près des populations qui nous ont donné leur confiance. C'est là notre travail, dégager une vision commune pour nos territoires, une identité actuelle, une identité qui prend en compte les problèmes qui affectent la vie dans la ville tels que les changements climatiques ou la question migratoire.

Cette quête commune, construite avec la société civile, grâce à des réunions d'échange ou des expositions interactives, nous permet de donner de nos territoires une image de responsabilité, positive, avec la mise en place de stratégies innovantes, attractives et rayonnantes.

Nous sommes déterminés à construire une solidarité moderne, équilibrée. C'est à dire une solidarité soucieuse des équilibres sociaux qui structurent nos villes. C'est à dire construire une alliance qui respecte notre diversité, qui améliore les conditions de vie, qui se préoccupe d'un meilleur vivre ensemble.

C'est à dire avoir la claire conscience que les questions de formation, d'environnement, de développement, d'innovation, imposent davantage de solidarité mais en faisant appel à d'autres moteurs de l'humanité que l'expression de la concurrence entre nous. Je pense à l'empathie qui nous aide à dépasser, ensemble, les conséquences des chocs de notre monde. Je pense aussi à la bienveillance, un trait de la société tunisienne trop longtemps oublié.

Ce nouveau mode de gouvernement, j'entends le porter, en ma qualité de femme Maire. Je sais que je ne suis pas la seule à promouvoir ces valeurs fondées sur l'écoute, le dialogue, le soutien, le partenariat et les bénéfices mutuels. Je ne veux pas dire qu'il y a un schéma féminin de gouvernance ! Mais ce qui est clair, c'est que nous les femmes, sommes moins nombreuses à être en responsabilité. Nous sommes donc plus visibles puisqu'en petit nombre et cette situation nous oblige vis à vis des électeurs. Elle nous impose vigilance, écoute, empathie. Nous avons ainsi en charge la dimension genre de la gouvernance. Un défi que nous entendons relever brillamment. Mais ceci ne doit pas nous décourager. Les femmes doivent oser être en position de leadership. Dans mon pays, elles sont présentes à toutes les échelles. Elles ont prouvé leur compétence et elles ont largement mérité les droits qu'elles ont pu arrachés au fil des générations. Je suis convaincue, qu'elles sont tout à fait apte aujourd'hui à se positionner comme leaders et de relever les defies.

Il est certain que notre environnement, fait de crises successives, de crises sociales aigües, d'inquiétude pour la planète, nous contraints à imaginer des approches novatrices dans la pratique du pouvoir pour répondre à ce présent de crises et de mutation digitale. Mais nous devons être confiants quant à nos compétences !

Les processus des transformations contemporaines se distinguent par une dynamique qui génèrent des changements profonds au niveau des personnes, des institutions, des cultures, des espaces, brefs de nos villes. Ces processus nous incitent à rechercher des alternatives pour refaçonner une vie ordinaire de quiétude. Il s'agit de forger une vision innovante en mesure de procurer des choix différents et d'interpréter le monde autrement tout en influençant les villes de manière qualitative. C'est dans ce contexte que je rêve de Tunis comme ville unique, dont la singularité ne vient pas de l'innovation, ni de l'extension, ni du caractère patrimonial ni stratégique. Mais de sa capacité de générer des changements significatifs chez les habitants, les institutions, les organisations et la société. Je veux que cette singularité se distingue par la créativité qui modifie le regard des gens vis-à-vis de leur environnement immédiat ainsi que les ressources fournies pour développer la ville.

Je crois à l'importance des moyens dont dispose la ville pour mobiliser l'intelligence collective par la diversité et la proximité des habitants. Car cette intelligence collective est plus qu'efficace, elle assure une fécondité sans limite et un développement hallucinant.

Je suis consciente du rôle qui est le mien à partir de ma fonction de Maire pour initier les changements politiques et sociétaux. En harmonisant l'indispensable autorité des élus qui assurent la cohérence d'ensemble et l'intelligence collective à partir de la société civile qui peut nourrir la vision d'avenir et donner des pistes concrètes et pertinentes. Ce rôle nous est d'une importance cruciale d'autant plus que nos moyens financiers et humains sont modestes pour accomplir notre mission. L'enjeu reste celui de protéger les différents équilibres essentiels pour une construction harmonieuse avec, par et pour le citoyen.

Tunis dont je rêve n'est pas cette ville consommatrices de nouvelles technologies ni celle qui court derrière les nouveaux concepts et les innovations mondiales pour réussir une opération de marketing traditionnel. Tunis que je conçois est la ville intelligente, globale et inclusive qui met les nouveaux outils et les nouvelles approches au service de l'amélioration de la qualité de vie de ses habitants et ses visiteurs. C'est la ville qui favorise l'emploi, qui revitalise les institutions, qui favorise l'exercice de la démocratie et le vivre ensemble, qui défend ses spécificités tout en étant fière de ses différences. Pour se faire, elle doit forger sa nouvelle image et se construire autour du citoyen, avec lui.