FRONT PAGE
About World Mayor
City Mayors Foundation
Email



---

WORLD MAYOR 2018
• Results 2018
• Project 2018
• Shortlist 2018
• Longlist 2018
• Raison d'être
• World Mayor history
• World Mayor Prize
• Code of Ethics
• Criteria
• Meet the Press

INTERVIEWS WITH
• Mayor of Ancona
• Mayor of Doncaster
• Mayor of Rennes
• Mayor of Zamboanga

ESSAYS BY
• Mayor of Ancona
• Mayor of Cologne
• Mayor of Doncaster
• Mayor of Fort Worth
• Mayor of Lille
• Mayor of Paris
• Mayor of Rennes
• Mayor of Saarbrücken
• Mayor of Trbovlje
• Mayor of Tunis
• Mayor of Zamboanga

TESTIMONIALS
• Mayor of Alphen / Rijn
• Mayor of Ancona
• Mayor of Baden-Baden
• Mayor of Calais
• Mayor of Chemnitz
• Mayor of Cologne
• Mayor of Cozumel
• Mayor of Doncaster
• Mayor of Fort Worth
• Mayor of Grand Rapids
• Mayor of Lille
• Mayor of Lodz
• Mayor of Molenbeek
• Mayor of Narayanganj
• Mayor of Oakland
• Mayor of Omaha
• Mayor of Paris
• Mayor of Rennes
• Mayor of Reutlingen
• Mayor of Saarbrücken
• Mayor of San Juan
• Mayor of Trbovlje
• Mayor of Tunis
• Mayor of Zamboanga
• Mayor of Zurich

PROFILES OF
• Mayor of Ancona
• Mayor of Cologne
• Mayor of Doncaster
• Mayor of Fort Worth
• Mayor of Lille
• Mayor of Paris
• Mayor of Rennes
• Mayor of Saarbrücken
• Mayor of Trbovlje
• Mayor of Tunis
• Mayor of Zamboanga


---
WORLD MAYOR 2016
WORLD MAYOR 2014
WORLD MAYOR 2012
WORLD MAYOR 2010
WORLD MAYOR 2008
WORLD MAYOR 2006
WORLD MAYOR 2005
WORLD MAYOR 2004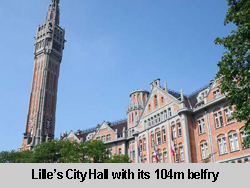 Essay by Martine Aubry
Mayor of Lille, France

First of all, allow me to express my gratitude in being one of the nominees for the World Mayor prize 2018, it is an honour to be amongst so many women serving their territories, around the world, upholding the ideals of justice and equality, and particularly upholding equality between women and men. I believe that as elected members of local authority, we have a special responsibility to be the bearers of this fight in each of our cities.
We also have a special responsibility because it is in our territories where innovation, creativity and democratic development emerge. It is also in our territories where future policies in all fields are made, not only to promote equality between women and men, but also in terms of economic development, ecological transition, urban renewal, social action, education and culture. On this last point, we are well aware of cultural development in Lille as a city proud to have been European Capital of Culture in 2004.
Also, I think that all the nominees for the World Mayor Prize will share my belief that a mayor's mandate is the greatest of all mandates. After all, what other mandate allows one to hold a long term vision for the future of a territory, and at the same time to interact closely with residents each day to accompany them, especially those that are the most vulnerable?
It is with this double ambition, to look towards the future whilst remaining attentive to each resident, that I have dedicated my work to Lille since I was elected Mayor in 2001. My vision for Lille has always been based on a certain ideal of togetherness and of course, on the values of justice and solidarity.

With these values, we defend the design of a city that deliberately turns its back on urban mechanics that divide and alienate. Rejecting city designs with the rich neighbourhoods on one side and the poor neighbourhoods on the other, where the outskirts are dormitory towns and the centres museums and commercial areas, industrial zones, etc.

This is especially important for us in Lille, we are one of the few major cities in France to have kept working class groups in the heart of the city. This is a great source of pride for us.

Also, we claim to uphold a policy of diversity even within the smallest blocks of housing. Social diversity exists in each neighbourhood by rebalancing the quantity of social housing where it is lacking and offering private housing where there is little. More than 20,000 new homes have been built in 2 mandates to make room for everyone. Diversity is apparent between generations within the same building, but also through mixed land use, with housing, shops, offices, businesses, sometimes sports or cultural facilities positioned around centres of excellence across the city.

Housing policy is the catalyst for the entire urban transformation of our city. From this starting point, we have sought to bridge the gap between different neighbourhoods. Through excellent equipment and high quality public spaces, the beauty of the city has been restored, with the help of internationally renowned architects, a pleasant living environment around revitalised public spaces has been established to better connect the inhabitants to each other, meaning they can meet face to face.

One of the biggest challenges of Western societies is the breakdown of the social body; it has become undermined by the continuing economic, social and moral crisis of our societies that leads to individualism, withdrawal into oneself and varied communitarianism.

All of this breaks up and divides people. With the elected members of Lille City Council, we seek to ensure that we are capable of joining together once again and that we can live in a more inclusive city. There is of course diversity in terms of the housing policy that plays a major role. However, in parallel we are pressing ahead with all the levers at our disposal:
• By supporting and developing a local network of remarkable associations that do so much for the cohesion of our city because the notion of commitment is at the heart of Lille's identity. A good example of this was when, 3 years ago, we were among the first cities in France to welcome refugees fleeing war and persecution. For a long time I will remember the fantastic spirit of solidarity that overcame so many people in Lille and this spirit has not left since, as we continue to welcome new refugees.
• By implementing strong solidarity policies for all ages so that nobody is left on the wayside.
• By making education a permanent priority in order to give each child the same chance of success and fulfilment, particularly through the use of innovative methods of learning.
• By developing culture for all and bringing it closer to inhabitants, through celebrations like the next Eldorado festival that starts in April 2019, but also through large exhibitions that uplift us, make us think and allow us to be more open to the world.
• By making sport accessible to as many people as possible both in our schools and in our clubs because, particularly for the youngest, sport is a means of socialisation and fulfilment
All of this has shaken the image of Lille, long referred to by many as the "Sleeping Beauty" during the beginning of deindustrialisation, which heavily affected our region. Not only the image the people of Lille had of their city and of themselves but also the image other people had of us. We have rediscovered our self-esteem and we have become an attractive and dynamic city.

In fact, we have done everything to re-energise activity and employment in the city, even if, in the current context, it is not easy. We have relied on centres of excellence which have given us a head start: Euralille, a true "tertiary turbine"; Eurasanté, specialist in medical research and Euratechnologies, the first French new technology business incubator and in the European top ten business accelerators. We have also fought to bring industrial activity to Lille like we have done with the b'Twin bicycle factory in Fives, an area in Lille. We also support trade development as I have always believed that a city without trade is a city without a soul.

Finally, we support tomorrow's economy with the Maison de l'économie sociale et solidaire (Centre for social economy), to develop a circular economy and reemployment
How can we not mention one of the most important challenges of our time, the fight against global warming?

This subject has great significance and every day, we are aware of the urgency to act in our regions. The latest reports from IPCC warn of the devastating effects if we do nothing to halt the increase in the Earth's temperature.

Indeed, it is not only a question of the survival of the human race evidently but also a question of justice and equality.

On a global scale, as in our towns and cities, we know that the main victims are not primarily responsible. It is the poorest and those in the most fragile situations who first suffer from the effects of climate change. I strongly believe that cities are on the most relevant and efficient level to respond to a challenge of this nature.

My belief is cemented every day when I see, as many others do, the failure of major nations around the world in this domain.

Consequently, our cities must be the areas in which solutions really take off.

In Lille, we have rallied for many years. We were among the first in France to sign Agenda 21 at the beginning of the 21st century, also among the first to be awarded the eco-neighbourhood label for urban renovation efforts.

Since the first mayoral convenant, we have been committed to reach the 3x20 objective: cutting energy consumption by 20%, cutting CO2 emissions by 20% and increasing renewable energy by 20%.

We want to go even further to accelerate the ecological transition and that is the reason why we have applied for the European Green Capital 2021 title. It is a project which involves all our partners in the Lille region to go even further in our fight against pollution, greenhouse gas emissions, waste and to promote a city where soft mobility, circular economy and renewable energy will be at the heart of development for the future.
Here I have briefly summarised the ambition I have for my city. My passion for Lille is immense. I must say that I am very lucky to be the Mayor of a city not like any other.

We are a city proud of our diversity; our mix of origins, cultures, conditions; our spirit of solidarity that has always been sustained; a city where we are capable of all uniting to support great causes, as we did when welcoming refugees.

Lille's energy and that of its people is a formidable opportunity to continue to do great things and respond to all the challenges we have in front of us.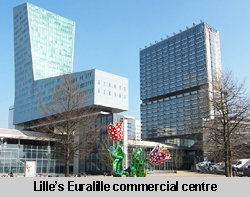 Essai de Martine Aubry
Maire de Lille, France
Permettez-moi de témoigner, d'abord, de l'honneur que je ressens de faire partie des nommées de l'année 2018 au titre de World Mayor, parmi tant de femmes qui servent leurs territoires, à travers le monde, dans un idéal de justice et d'égalité, et notamment d'égalité entre les femmes et les hommes. Et je crois qu'en tant qu'élues locales, nous avons une particulière responsabilité pour être, chacune dans nos villes, porteuse de ce combat.

Particulière responsabilité aussi parce c'est dans nos territoires où émergent l'innovation, la créativité et le développement démocratique, que se font les politiques d'avenir dans tous les domaines, bien sûr pour promouvoir l'égalité femmes – hommes, mais également en matière de développement économique, de transition écologique, de renouvellement urbain, d'action sociale, d'éducation et de culture naturellement. Sur ce dernier point, nous le savons d'autant mieux à Lille que nous restons fiers d'avoir été capitale européenne de la culture en 2004.

Aussi, je pense que toutes les nommées au titre de World Mayor partageront ma conviction que le mandat de maire est le plus beau de tous les mandats. Après tout, quel autre mandat permet à la fois de porter une vision de long terme pour l'avenir d'un territoire, et en même temps d'agir chaque jour au plus près des habitants pour les accompagner, notamment les plus fragiles d'entre nous?
C'est en tout cas avec cette double ambition de tourner Lille vers l'avenir tout en étant attentif à chacun que j'ai conçu mon action à Lille depuis que j'ai été élue Maire en 2001. Ma vision pour Lille s'est toujours appuyée sur une certaine idée du vivre ensemble et bien sûr, sur des valeurs, celles de justice et de solidarité.

Forts de ces valeurs, nous défendons la conception d'une ville qui tourne délibérément le dos à une mécanique urbaine qui segmente et éloigne, avec les quartiers riches d'un côté et les quartiers pauvres de l'autre, les périphéries dortoirs et les centres musées, les zones commerciales, les zones industrielles, etc…

C'est d'autant plus important pour nous qu'à Lille, nous sommes l'une des rares grandes villes en France à avoir gardé les catégories populaires au cœur de la ville. C'est une fierté pour nous.

Aussi, nous revendiquons le choix d'une politique de mixité jusque dans le plus petit îlot de logement : mixité sociale dans chaque quartier en rééquilibrant l'offre de logement social là où il en manque et l'offre de privé là où celle-ci est faible avec plus de 20.000 nouveaux logements construits en 2 mandats pour faire une place à chacun, mixité entre les générations au sein d'un même immeuble, mais aussi mixité des fonctions, avec au même endroit des logements, des commerces, des bureaux, de l'activité économique, parfois des activités sportives ou culturelles autour de lieux d'excellence, partout dans la ville.

La politique du logement est le catalyseur de toute la transformation urbaine de notre ville. A partir de là, nous avons cherché à faire la soudure entre les quartiers, avec des équipements d'excellence, des espaces publics de qualité en remettant du beau dans la ville avec le concours d'architectes de renommée internationale, et un cadre de vie agréable autour d'espaces requalifiés pour mieux relier les habitants entre eux et faire qu'ils se rencontrent.

Car l'un des plus grands défis des sociétés occidentales, c'est l'éclatement du corps social, miné par la poursuite de la crise économique, sociale et morale de nos sociétés qui entraîne l'individualisme, le repli sur soi, les communautarismes divers.

Tout cela fragmente et sépare les gens. Avec les élus Lillois, nous cherchons à faire en sorte qu'on soit capable de se réunir à nouveau, qu'on puisse vivre dans une ville plus inclusive. Il y a bien sûr la mixité par la politique du logement qui joue un rôle majeur. Mais nous activons en parallèle tous les leviers à notre disposition:
en soutenant et en développant un tissu local d'associations remarquables qui font tant pour la cohésion de notre ville car la notion d'engagement est au cœur de l'identité lilloise. Nous en avons eu un bel exemple lorsque nous avons été parmi les premières villes de France à réserver, il y a trois ans, un accueil aux réfugiés qui fuient les guerres et les persécutions. Je garderai longtemps en mémoire le formidable élan de solidarité qui a gagné à ce moment beaucoup de Lillois et qui ne s'est pas démenti depuis, alors que nous continuons d'accueillir de nouveaux réfugiés;
• en mettant en œuvre des politiques de solidarité fortes à tous les âges de la vie pour que personne ne reste au bord du chemin;
• en faisant de l'éduction une priorité permanente pour donner à chaque enfant les mêmes chances de réussite et d'épanouissement, grâce notamment à des méthodes d'apprentissage innovante;
• en développant la culture pour tous et au plus près des habitants, avec des moments de fête comme le prochain festival Eldorado qui commence en avril 2019, mais aussi de grandes expositions qui nous élèvent, nous font réfléchir et permettent de nous ouvrir sur le monde;
• en facilitant l'accès au sport pour le plus grand nombre, dans nos écoles comme dans nos clubs, car nous savons que le sport est facteur, notamment pour les plus jeunes, de socialisation et d'épanouissement.
Tout cela a bouleversé l'image de Lille, longtemps qualifiée par beaucoup de « belle endormie » au tournant de la désindustrialisation qui frappé douloureusement notre région. Non seulement l'image que les Lillois avaient de leur ville et avaient d'eux-mêmes, mais aussi l'image que ceux qui nous regardaient de l'extérieur avaient de nous. Nous avons retrouvé l'estime de nous-mêmes et sommes devenus une ville attractive et énergique.

D'autant plus que nous avons tout fait pour remettre de l'activité et de l'emploi dans la ville, même si, dans le contexte actuel, cela n'est pas facile. Nous avons misé sur des pôles d'excellence qui nous ont donné un temps d'avance : Euralille, véritable « turbine tertiaire », Eurasanté spécialisé dans la recherche médicale, et Euratechologies, 1er incubateur français pour les entreprises des nouvelles technologies et dans le top dix européen des accélérateurs. Nous nous sommes aussi battus pour ramener de l'activité industrielle comme nous l'avons fait avec l'usine de vélo b'Twin à Fives, l'un des quartiers de Lille. Nous soutenons également le développement du commerce car j'ai toujours eu la conviction qu'une ville sans commerce est une ville sans âme.

Enfin, nous soutenons l'économie de demain autour de la Maison de l'économie sociale et solidaire, pour développer l'économie circulaire et le réemploi.
Comment, en effet, ne pas évoquer ici en quelques mots, l'un des grands défis de notre époque, celui de la lutte contre le réchauffement climatique ?

On sait le sujet toujours plus prégnant et on voit chaque jour l'urgence d'agir dans nos territoires. Les derniers rapports du GIEC alertent sur les effets dévastateurs si nous ne faisons rien pour enrayer la hausse de la température terrestre.

Or, c'est non seulement une question de survie de l'espèce humaine évidemment mais c'est aussi une question de justice et d'égalité.

Car à l'échelle du monde, comme dans nos villes, nous savons que les premières victimes ne seront pas les premiers responsables. Ce sont les plus fragiles et les plus pauvres qui subiront d'abord les effets du changement climatique.

J'ai la ferme conviction que les villes sont l'échelon le plus pertinent et le plus efficace pour répondre à un enjeu de cette nature.

Je le crois d'autant plus que j'observe chaque jour, comme beaucoup d'autres, la carence des grands Etats de la planète dans ce domaine.

Par conséquent, nos villes doivent être les territoires d'où partiront les solutions.

A Lille, nous sommes mobilisés depuis de nombreuses années. Nous avons été parmi les premiers en France à signer un agenda 21 au début du XXIè siècle, parmi les premiers également à se voir attribuer le label éco-quartier pour les opérations de rénovation urbaine.

Nous sommes engagés depuis la première convention des maires à tenir l'objectif des 3x20 : 20% de consommation d'énergie en moins, 20% d'émission de CO2 en moins et 20% d'énergie renouvelable en plus.

Nous voulons encore aller plus loin pour accélérer la transition écologique et c'est la raison pour laquelle nous nous sommes portés candidat au titre de Capitale Verte Européenne pour 2020, une démarche qui mobilise tous nos partenaires sur le territoire de Lille pour être encore meilleurs dans la lutte contre la pollution, les émissions de gaz à effet de serre, le gaspillage et promouvoir une ville où les mobilités douces, l'économie circulaire et les énergies renouvelables seront au cœur du développement de demain.
Voilà brièvement résumée l'ambition que je porte pour ma ville. Ma passion pour Lille est immense. Il faut dire que j'ai une grande chance, celle d'être le Maire d'une ville pas comme les autres.

Nous sommes une ville fière de sa diversité, fière de sa mixité d'origine, de condition, de culture, fière de l'esprit de solidarité qui l'a toujours animée, une ville où nous sommes capables de nous réunir autour de grandes causes, comme nous l'avons fait lors de l'accueil des réfugiés.

Ce ressort intérieur de Lille et des Lillois est une opportunité formidable pour continuer à faire de grandes choses et relever tous les défis qui sont devant nous.