Detail from the World Mayor award, designed by Manuel Ferrari and sculptured by Kaspar Swankey




FRONT PAGE
About World Mayor


• VOTE NOW
• The 2014 short list
• The 2014 longlist
• Code of Ethics
• The World Mayor Prize



The 2012 results
The 2012 project
The 2012 shortlist
The 2012 long-list
Code of Ethics | Código de Ética |
The World Mayor Prize
World Mayor Prize winners exchange letters



The 2010 results
The 2010 project
The 2010 finalists
Code of Ethics
The World Mayor Prize
The 2008 results
The 2008 project
The 2008 finalists
The World Mayor Award


The 2006 results
Methodology
The 2006 finalists
The World Mayor Award

The 2005 results
Contest methodology
List of finalists
Mayor Rama writes - Mayor Bakoyannis replies
The World Mayor Award

Mayor of Athens
Mayor of Guatemala City
Mayor of Mississauga
Mayor of San Fernando
Mayor of San Francisco

Mayor of Athens
Mayor of Guatemala City
Mayor of Mississauga
Mayor of San Fernando
Mayor of Vienna

Comments on finalists from The Americas
Comments on finalists from Europe
Comments on finalists from Asia, Australia and Africa
Comments on Addis Ababa
Comments on Antananariva
Comments on Athens
Comments on Atlanta
Comments on Belo Horizonte
Comments on Bonn
Comments on Guatemala City
Comments on Karachi
Comments on London
Comments on Melbourne
Comments on Mississauga
Comments on Rio de Janeiro
Comments on Rome
Comments on San Fernando
Comments on San Francisco
Comments on Toronto
Comments on Vancouver
Comments on Vienna

Mayor of Addis Ababa
Mayor of Antananarivo
Mayor of Athens
Mayor of Belo Horizonte
Mayor of Bonn
Mayor of Ekaterinburg
Mayor of Guatemala City
Mayor of Innsbruck
Mayor of Karachi
Mayor of Kiev
Mayor of Melbourne
Mayor of Mississauga
Mayor of Munich
Mayor of Rhodes
Mayor of Rome
Mayor of Tshwane
Mayor of Vienna

The 2004 contest
List of all 2004 finalists
Edi Rama wins 2004 award
People ask - Edi Rama replies
Why we voted for the Mayor of Tirana
Why we voted for the Mayor of Mexico City
History of Tirana

Front Page
Site Search
About City Mayors
World Mayor award sculpture
shows courage and conviction

When City Mayors conceived the World Mayor project in 2003, it was decided to make an annual award to the mayor who has best shown that he has the vision, the passion and the skills to make his city an amazing place to live in, to work in and to visit. City Mayors commissioned French artist Manuel Ferrari to design a sculpture that is as unique as the city of the winning mayor. City Mayors editor, Tann vom Hove, said: "We asked Manuel Ferrari to produce a design that shows what an inspirational mayor can achieve if he builds on strong foundations."

Before contemplating design, Manuel Ferrari learnt as much as possible about the front-runners in the World Mayor project. "I wanted to know why these mayors could arouse such strong feelings," he said and added that all the mayors he studied had two characteristics in common - courage and conviction.

"I wanted to create a design that also showed courage and conviction," Manuel Ferrari explained. "I decided on cubes as building blocks which, at first glance, are stacked precariously on top of each other. Closer inspection, however, reveals firm interlocking and construction around an invisible but strong spine." He said that his design reflected his own experience of living and working in an urban environment. "Many of the world's most successful cities are prospering because their different communities, often with their own cultures, are united around civic goals," Manuel Ferrari concluded.

The award, which was made by London-based sculptor and blacksmith Kaspar Swankey, has already attracted critical acclaim in the art world. It has become a potent symbol for the achievements of city mayors worldwide.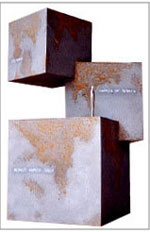 The World Mayor award has become a potent symbol for the achievements of city mayors worldwide


Introducing
World Mayor
The City Mayors Foundation, the international think tank for local government, organises the World Mayor Project and awards the World Mayor Prize. The Prize, which has been given since 2004, honours mayors with the vision, passion and skills to make their cities incredible places to live in, work in and visit. The World Mayor Project aims to show what outstanding mayors can achieve and raise their profiles nationally and internationally.

The organisers of the World Mayor Project are looking for city leaders who excel in qualities like: honesty, leadership and vision, management abilities and integrity, social and economic awareness, ability to provide security and to protect the environment as well as the will and ability to foster good relations between communities from different cultural, racial and social backgrounds. The winner receives the artistically acclaimed World Mayor trophy, while the two runner-ups are given the World Mayor Commendation.

Mayors wishing to be considered for the World Mayor Prize will be asked to sign up to the City Mayors' Code of Ethics

Timetable
Nominations were accepted until the 17 May 2012. A shortlist of 25 nominees was published on 18 June. Voting took place until 20 October . The winner of the 2012 World Mayor Prize and other results of the World Mayor Project were announced on 8 January 2013.

Winners and runners-up
2004 to 2012
In 2004: Winner: Edi Rama (Tirana, Albania); Runner-up: Andrés Manuel López Obrador (Mexico City, Mexico); In third place: Walter Veltroni (Rome, Italy)
In 2005: Winner: Dora Bakoyannis (Athens, Greece); Runner-up: Hazel McCallion (Mississauga, Canada); In third place: Alvaro Arzú (Guatemala City, Guatemala)
In 2006: Winner: John So (Melbourne, Australia); Runner up: Job Cohen (Amsterdam, Netherland); In third place: Stephen Reed (Harrisburg, USA)
In 2008: Winner: Helen Zille (Cape Town, South Africa); Runner up: Elmar Ledergerber (Zurich, Switzerland); In third place: Leopoldo López (Chacao, Venezuela)
In 2010: Winner: Marcelo Ebrard (Mexico City, Mexico); Runner-up: Mick Cornett (Oklahoma City, USA); In third place: Domenico Lucano (Riace, Italy)
In 2012: Winner: Iñaki Azkuna (Bilbao, Spain); Runner-up: Lisa Scaffidi (Perth, Australia); In third place: Joko Widodo (Surakarta, Indonesia)